10 Best Procreate Tree Brush Options (Free & Paid Brushes)
Curious about the best brushes for painting trees in Procreate? We review the best options.
Original and creative individuals worldwide use the Procreate application to express their imagination and bring to life astonishing masterpieces.
When it comes to nature, creating illustrations in this sphere has never been more fulfilling with these alluring tree brushes and stamps used within this multi-award-winning application.
Thus, with each possessing some assets and liabilities, the reviews only speak for their utilitarian character and chances for authentic, innovative manifestation.
Below, we present you a list of the ten best Procreate tree brushes, the links from where you can purchase them, images of some original artworks made with them, and the full range of the opportunities available.
---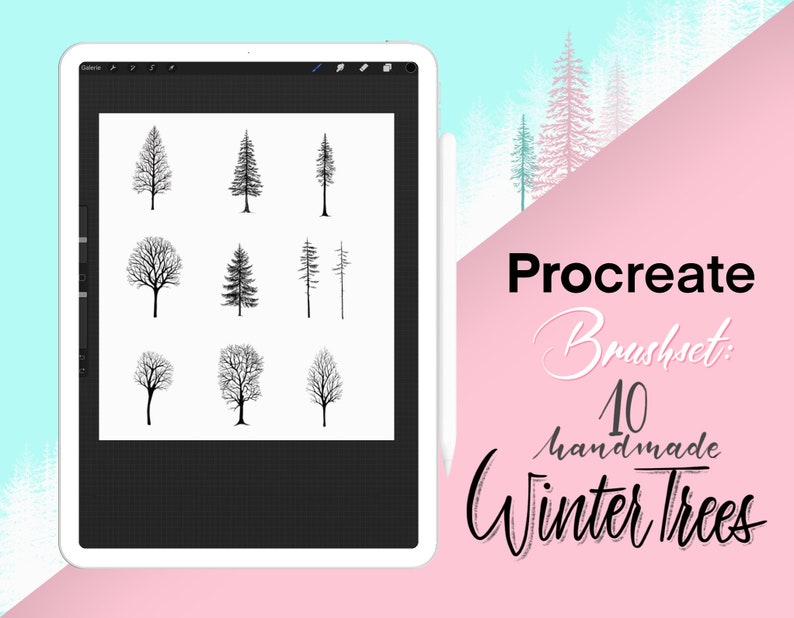 Bunte Galerie's winter trees brush set is confidently unique – cute hand-drawn winter tree stamps can be used for practical and creative purposes.
Maybe the only disadvantage of this brush set is that it does not possess any foliage stamps other than trees, and you cannot get as creative as using the previously mentioned brushes and stamps.
There are no clouds, snowflakes, or any other kind of winter landscape parts.
But meanwhile, you can get experimental by making illustrations, greeting cards, and even hand letters with these winter tree brushes and stamps.
You can even include them in creating calendars as there is one example of that, given at the etsy.com page.
These stamps could be used for the winter and maybe autumn months.
You have ten different trees to choose from, and the price is relatively low – USD 3.04.
Another essential thing to consider is that the owner of the Bunte Galerie, Mrs. Ludmila Blum, allows commercial use of graphics created with the help of these stamps.
She usually replies within 24 hours, so once you purchase this fantastic winter tree stamp and brush pack for Procreate, you are ready to install it and start making miracles!
This is an excellent set of brushes inspired by the legend Bob Ross.
The 100%-recommended shop SEE SEE just got inspired by the warmth and kindness of the well-known painter Bob Ross, which resulted in creating these captivating nature brushes for Procreate.
Sadly, they are only available for this application/iPad, and the tutorial on how to achieve the Bob Ross look has not been released yet.
It is also firm that using these brushes is a bit tricky for digital paintings, but the creators were at least open and honest about this issue.
But, when it comes to the assets in this cleverish creation, we humbly admit that these nature-related brushes are incredibly fetching.
Bob Ross was, without a doubt, a one-of-a-kind painter and a submissive individual.
SEE SEE has attempted to achieve Bob's unique retro oil-painting medium look in this set.
For only USD 19.00, it contains about 20 brushes, including two simulated palette knives.
The creators confirm four real canvas overlay image file options.
There is also a YouTube reference video, accessible in the description of the link below. However, the brushes also include a written tutorial on achieving the perfect look for the trees and clouds.
It is still a very detailed and precise video tutorial, available on their YouTube account named Celeste Duffy.
If you are ready to do your masterpiece with these unique brushes, they are just waiting for you and your boundless creativity!
Do not forget; you cannot possibly make any mistakes, just happy minor accidents.
---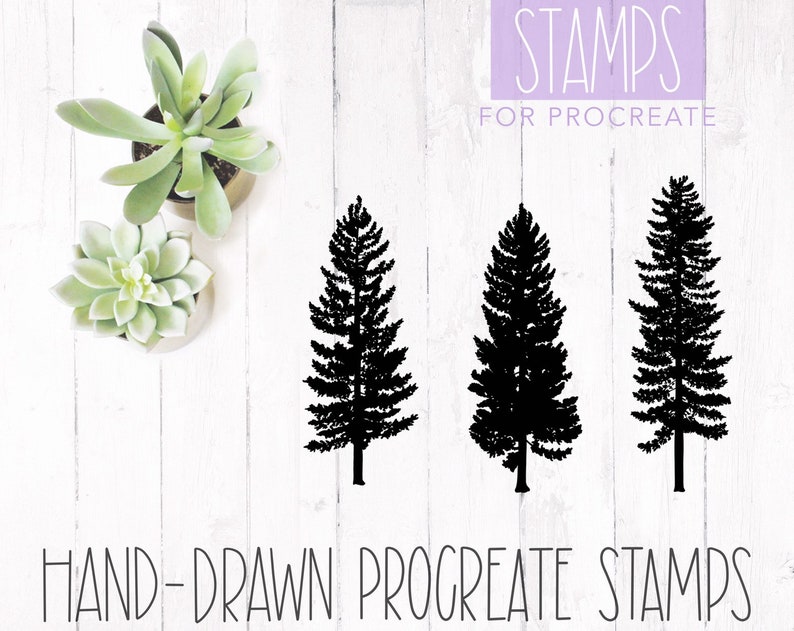 These very detailed and versatile tree stamps, which have been hand-drawn by Pretty Poppy Design, are assuredly the bestseller and utterly 5-star reviewed and available for only USD 3.00.
Perhaps the only obstacle that inherently comes with these tree stamps is that they only come in three styles for variation in the digital paintings, and all three are dyed-in-the-wool indistinguishable.
Depending on the fact that the tree stamps are very similar, one cannot create drastic variations in the Procreate illustration workpieces using them exclusively in a big way.
On the other hand, the many positive marks, features, and possibilities that mainly characterize these stamps, in general, speak for themselves in an actual significant way.
Depending on the fact that these Pretty Poppy Design tree stamps are no less than 5-star reviews by very unusually large numbers of buyers, there is nothing but only high-satisfied customers, which is relatively significant.
Firstly, anyone using the Procreate IOS app can confirmedly financially afford them; namely, these stamps only cost USD 3.00 at the moment, and with no further enormous variations, their original price is USD 5.00.
Then, according to the reviewers, they are straightforward to import to the Procreate application and only easier and funnier to use, as they concluded.
Also, the recommendations only tell us how these tree drawings are perfectly detailed and excellent and adequate for anyone who wills to paint forests or any natural landscape.
In essential respects, as of course reviewed by the users, the Pretty Poppy Design bestseller tree stamps are as well quickly able to resize without them becoming blurry!
---
For anyone who would fancy painting a vast amount of natural landscapes with the excellent Procreate application, this nature Bundle by Extreme Brushes is one of the best deals that can be made – 136 high-quality varieties of brushes for only USD 54.00!
There is still, of course, a disadvantage.
Specifically, these nature brushes are compatible only with Procreate for iPad and will not possibly work in Photoshop or any other painting programs, as stated by their creators.
Also, the newest version of Procreate is necessary to import the packs into the application.
So, if you are not a fan of the Procreate iPad application, sadly, we have some bad news for you.
But there is an extensive range of advantages!
By purchasing this pack of all the nature-related brushes released by Extreme Brushes, you amazingly save over USD 30.00!
By purchasing this bundle, you will have access to all current and future nature-related brush packs.
The pack involves a vast diversity of brushes, including flora, fur, feather, clouds, smoke, and many natural elements.
And most importantly, for an easy start – there is a tutorial made by Extreme Brushes up to the point where the brushes are unzipped.
It is a detailed 8-minute long video, which gives precise step-by-step instructions.
The satisfied customers that handpicked these tree brushes review this bundle with no less than five stars!
These Foliage Brushes were not accidentally placed on the list of the ten best tree brushes for Procreate – Jenteva Art's astonishing 60 pieces of brushes help create the most natural forests and landscapes that can ever be assembled on Procreate.
These brushes, too, do not work with Photoshop or any other illustrator application, nor can they be afforded by everyone who wants to try out painting in Procreate.
But the reviews apprise us about how useful this pack is for beginners and how every individual interested in creating professional-like nature landscapes can use these foliage brushes with easiness.
Jenteva gives access to a YouTube tutorial about how the brushes work and what you could use them for, which is only helping and giving pros.
You can visit her YouTube account, The Art Of Jenteva, anytime.
Please take a look at the stunning painting that has been made with her foliage brush set.
Moreover, brushes are included to draw trees, bark, branches, flower, grass, cloud, star, snow, leaves, and many other different nature stamps.
Clients have posted their projects with these brushes, and they are for real, exceptionally aesthetically pleasing.
---
The undoubtedly skillful creators of Extreme Brushes strike again with their professional foliage brush set, which yields the likelihood of creating incredibly realistic landscapes and nature paintings for Procreate users.
As is the case with most brushes from this list, they are only available for the Procreate application and require the Apple Pencil, with no ability to use them in Photoshop or any other drawing/painting program.
This professional set is available for only USD 12.00. It includes a variety of 10 brushes to create "convincing palm trees, grass, branches and lots of other types of foliage," – as mentioned by the Extreme Brushes shop.
Besides, they offer a YouTube video on installing the pack on Procreate and state that anyone who has problems and needs help with the product can contact the shop owner by visiting their shop profile and sending them a message.
Although the video quality is inferior, it is part of the cons.
Still, on the link below, you can glimpse an example artwork entirely made with this professional pack of foliage brushes.
---
One of the premium brushes for Procreate are these foliage brushes by Extreme Addons, rated 5-stars and given a diversity of commendable comments and reviews, and accessible for as little as USD 6.00!
The same thing occurs with this one – only available for iPad's Procreate and not for any other applications.
Only one not-so-good review about Extreme Addons – a client has complained about not getting any response or assistance with installing these foliage brushes.
Of course, the strengths of this product are never-ending.
Ten different and incredibly realistic brushes are available for only USD 6.00, allowing the Procreate users to create and alter nature landscapes easily.
From trees to grass and branches, Extreme Addons provided their customers with a new astonishing brush pack, helping them express their at-the-end-beautiful ideas.
Bringing imagination to life has never been more accessible and more entertaining, and that is a fact!
---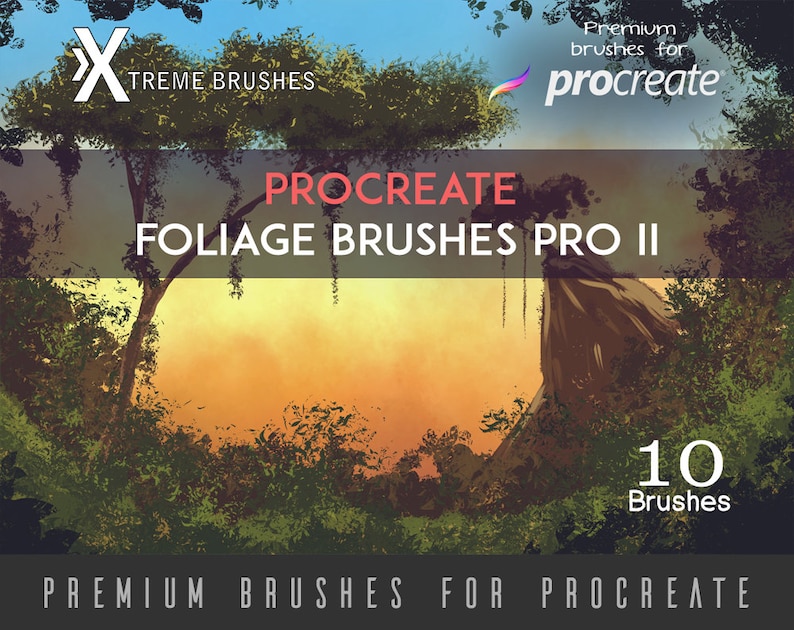 Next on the list is Extreme Addons' third professional foliage brush collection, which is more or less as good as the second one, promising new engagements and a burst of creativity!
Not compatible with applications other than Procreate, and requires an iPad pro and, of course, the iPad stylus, which is very important to note.
The latest version of Procreate is strongly recommended.
This deal is even more profitable than the previous one – for only USD 8.00, you are provided with even 20 high-quality and unique foliage tree brushes!
Not only are they beautiful, but the new hopeful digital painters can begin painting nature landscapes with no difficulty or any trouble.
Furthermore, even the experienced painters using Procreate's advantages can save plenty of time by using this favorable set of low-cost but high-grade foliage brushes.
They complement this list with their one-of-a-kind uniqueness.
---
Now one of the most practical and used for various purposes pack – Design Material Co.'s brushes for procreating not only allows drawing trees but are, in fact, different leaf and brunch brushes that you can combine in many creative ways.
Although they cost USD 21.00 and there are not so many brushes. 
There are only 5 Procreate brushes to choose from 1 Root Brush, 1 Shrub/Leaves Brush, 1 Trunk Brush, 1 Wood Shading Brush, and 1 Fixed Shading Brush. 
They are not recommended for beginners because it takes some more time and patience to draw a tree or paint a nature landscape (than only using tree stamps). 
Also, some experience is needed, if not professional.
The accomplished and trained digital painters and designers can undergo the assets these brushes can give. 
To be specific, the underlying creativity of these individuals can be unlocked with Design Material Co.'s brush set. 
The golden opportunity to digitally paint different-looking trees is, of course, here, as is the inevitable variety of natural landscapes. 
Also, Design Material Co. provides us with easy-to-follow installation instructions. 
You can sign up for their newsletter to get a free stippling brush, and that is instant! Download now.
---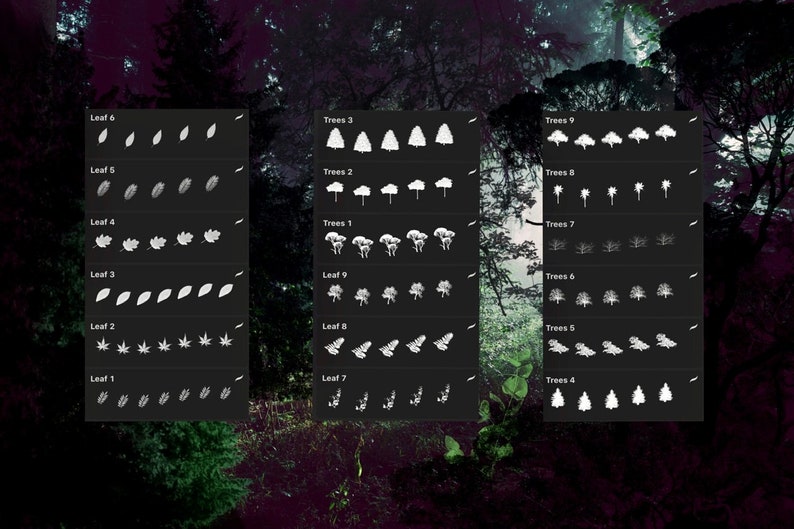 Last but not least, Joanna Vu Art And Design enriched the Procreate application with her trees and left brushes, providing digital painters with a diverse palette of unique brushes and beautiful nature-like stamps.
This package only works with the Procreate iPad app, so artists and amateurs who prefer using other applications, such as Photoshop, do not have access to Joanna Vu's trees and leaves brushes.
Without any further hesitation, there is no other disadvantage that concerns this tree package.
Anyone can use these stamps and brushes, including high-experienced digital painters and even some creative amateurs.
They are straightforward and practical to use by any Procreate purchaser, which makes this package participate in this objective list of 10 best tree brushes.
This pack offers even 18 high-quality trees and leaves procreate stamp brushes to choose from, as mentioned in summary, and for only USD 6.89.
You can spice up your everyday painting routine by purchasing these adorable trees and leaves brushes and start to amaze all the creative souls around you!
---
Conclusion: 10 Best Tree, Foliage & Botanical Brushes For Procreate
On the whole, digital painting indeed is one of the most excellent ways to express yourself and create engaging masterpieces and designs. 
Overall, anyone who is warmed up for bringing to life their subjective images and ideas around the topic of nature, landscapes, and thus inevitably – trees might recommend looking at the ten best tree brushes and stamps that positively reinforce the Procreate application. 
.