10 Best Shopify Theme Designs For Jewelry
Scouting around for the best Shopify theme for jewelry?
Sure, malls are currently closed and not much else to do but browse the world wide web.
Online shopping is experiencing a significant boom in its already substantial popularity.
Setting Your Own Shop
As such, now is the perfect time to set up that online jewelry store you've been ruminating about.
You might be nervous about diving into opening an online shop for fear of not being discovered.
We understand!
But with whole the world internet surfing their quarantine away, your odds at being seen are better than ever. 
Moreover, Shopify offers a plethora of sleek, eye-catching templates (or themes).
They have all been designed to captivate potential customers.
They will lend your shop a unique ambiance. 
From minimalist to floral to modern, there is genuinely a theme for whatever mood you yearn for! 
Without further ado, here are the current ten best Shopify theme for jewelry.
---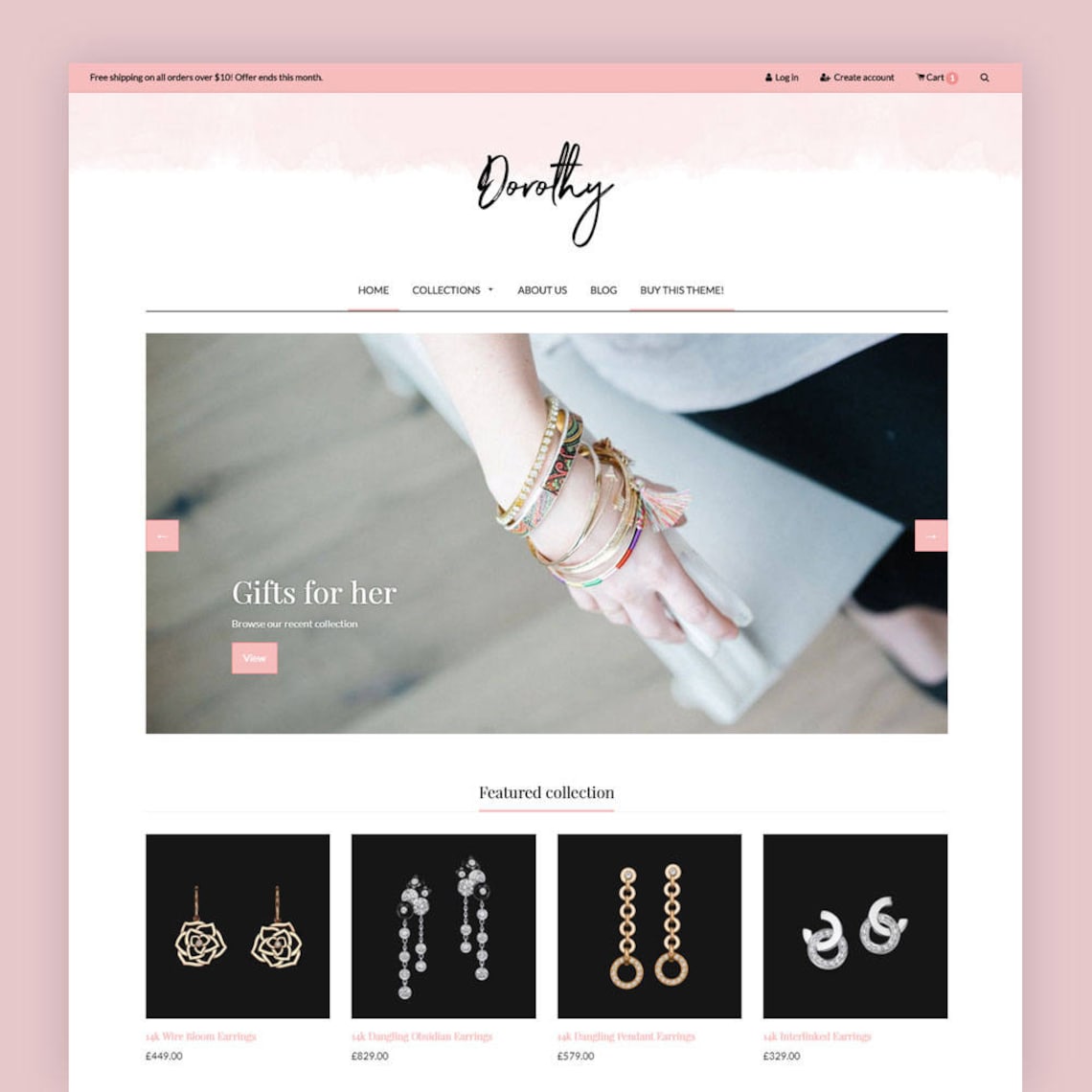 If 'feminine' is the vibe you're going for, then look no further than this pretty, pink, $146.86 template. 
Yes, it can be a little pricey on the side, but just look at how gorgeous it is. 
This pink-rimmed page utilizes color effectively by making the darker images stand out in a sharp juxtaposition to the feminine colors surrounding it. 
What this accomplishes is making the product the true focal point, despite the prettiness of the page around it. 
This lovely theme comes equipped with an easy-to-use font and color customization menu. 
That way, they act of personalizing your hard-earned store is no hassle at all! 
It also works on several browsers and devices, such as phone, tablet, laptop, and desktop, for secure accessibility. 
Social media implementation is seen again here, of vital importance in terms of building a recognizable brand. 
This is in combination with the option of testimonials so that customers can feel heard and appreciated for their thoughts/experiences. 
Another super cool feature is that the seller of this theme has linked a live demo as well as his documentation, so you can feel secure in precisely what you're paying for before buying. 
There is a little less variety in special features compared to some of the rest, but you get all the essential aspects that you need for a successful shop. 
And, hey, you can't say this one isn't eye-catching!
Pros & Benefits:
Gorgeous and customizable design 

SEO and social media implementation to get your brand out there

Live demo and documentation from the seller for easy installation
---

We're starting out just as striking as your store will be.
Check out the very affordable $29 Rome Premium Shopify theme from HulkThemes. 
This glossy opening page mesmerizes with bold colors and sultry photos.
But the real brilliance is how well these elements coalesce to highlight the jewelry rather than upstage them. 
One perk right off the bat is that buyers have the choice between two alternate versions for the homepage,.
This really gives this purchase that extra customizable feel. 
Version one is set up to show only collections.
All images designed to take equal percentages of width on the web page.
Version two is a more standard layout with selectable menus. 
Colors and typography can be even further customized.
You can make your shop feel like the home sweet homepage. 
It is also SEO friendly,.
This is perfect for drawing-in wandering eyes!
It also boasts easy social media integration for help in terms of marketing your brand. 
This template was designed:
With efficiency in mind

Maximizing all space used to avoid a clunky confusing menu

Leaving customers with fewer tabs to get lost in
Think 'open concept' but for an online space!
As a result, it is responsive and intuitive for that quick, easy-breezy customer experience. 
I put this in the first place.
This is because of its:
Substantial assortment of features

Beautiful design

An almost

ridiculously

low price
It's a heck of a steal!
Pros & Benefits:
Very affordable, fits any budget

SEO and social media integration to gain visibility 

Highly customizable design, fonts, and colors for the price point
---
Next up is the stunning, highly modern $65.90 design by CreativeCottageCo. 
Simplistic chic is a good label for this look, I think.
It has plain white backdrop coupled with minimal black line.
All these ensures that any pop of color (like that in your gorgeous necklaces) will genuinely stand out and draw the eye. 
An immediate selling point of this template is that it is mobile friendly.
It's also supported on all major browsers (such as Firefox, Chrome, Explorer, etc.). 
This widens the scope of your buyers' demographics considerably.
It is very user friendly. 
Easy customization is also seen here with the ability to alter colors, images, menus, fonts, etc. This means that you can give their great design your unique spin. 
This particular Etsy shop also has marvelous reviews for its impeccable customer service.
They are quick to respond and friendly too.
For your peace of mind, they provide helpful installation instructions.
They even offer to set up new shop owners with their Shopify account upon purchase of a theme! 
This stole second place because the minimalistic design can be appealing to a wide array of stores and subsets of jewelry.
This is not to mention, their offer to help anyone new to Shopify. 
A little pricier than our first option, maybe.
But this is definitely an excellent starter theme for inexperienced shop owners. 
Pros & Benefits:
Widely supported on mobile and PC browsers; accessibility.

Installation and/or shop set up instructions for the more comfortable establishment 

Reasonably customizable in design
---
A third promising option is the Ruby Shopify theme by ThemeTidy for a perfectly reasonable $35.
This opening page departs from the standard.
It uses the model as a focal point.
She has sharp features and fiery red hair to draw attention to the rings being featured. 
I think this fact alone is unique enough to make your shop stand out, but there's more. 
This yet another versatile design supported by all major browsers and myriad of screens (iPhone, iPad, PC, etc.).
The customers can ogle your store through any screen they have available to them. 
On that note, integration to social media is even more comfortable with a social sharing button.
This will make it more likely for your store to circulate among buyers (and maybe also go viral!)
It also boasts itself to be 'Super SEO Optimized' with Google's Rich Product Snippets.
This bodes well for your ability to be discovered from any relatable web search. 
Further, this uses an Ajax shopping cart with a pleasant success message.
This will give your online store the attentive customer service feel of a real-life shop.
THIS is what brings customers back. 
It boasts beautiful features, though it seems a little more niche in design.
Why you should consider this website design: 
Lovely typography

Highly customizable widget menu

Custom style for checkout

Easily up loadable custom site logo
Pros & Benefits:
SEO and social media optimized for an increased online presence

Versatile, customizable site to put your distinct style on the template

Ajax shopping cart for a more professional air
---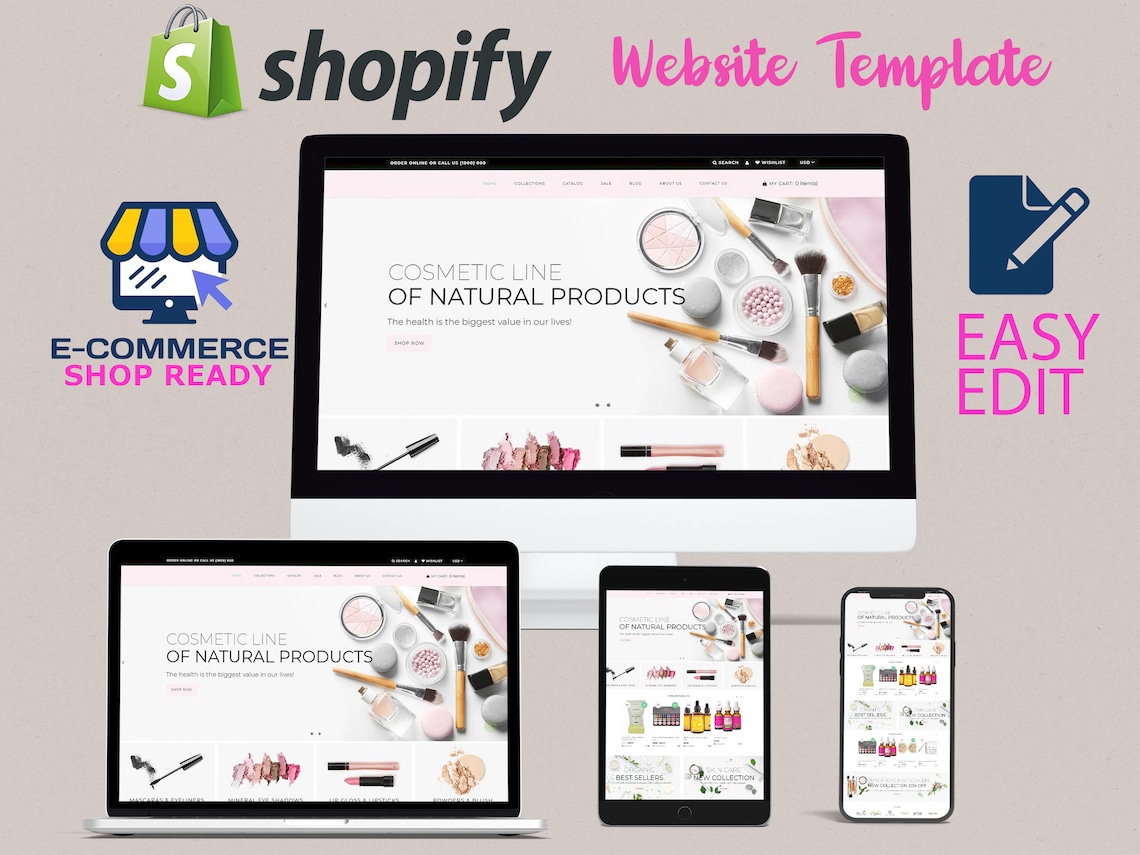 If we haven't found anything entirely up to your alley so far, then maybe the fourth time's the charm.
Up next is Templatelife's Shopify Theme Website Design for the considerably heftier $141.52. 
While not designed for the specific sale of jewelry, it instead offers a nice universality that can be applied to any merchandise and therefore allows your products to shine for themselves. 
The menu, which one might call plain Jane (though one woman's plain Jane is another's stunning Sally), is easy to read and easy to use, and not overly complicated in the slightest.
Moreover, it is minimal in color, too, again, make your jewelry the sparkling stars of the show. 
Like the ones before it, this offers social media and SEO integration as well as the Ajax cart feature, so you would not be missing out on those great features by opting for this theme. 
And if you're unsure about coughing up that extra dough, let me assure you that you would absolutely get your money's worth. 
This template is the most customizable by far, with options beyond just color and font changes. 
Choices include banners, widgets, collections and/or collection banners, a newsletter, testimonials, slideshows, maps, a product carousel, wish lists, blog articles, and even more! 
It may be a little too simple to some, but more than makes up for that with a large selection of customizable features to compensate. 
Pros & Benefits:
Extreme customization in terms of design and helpful additions

Extra features when compared to more basic templates 

Clean, simple design so as not to distract from the merch
---

As the name implies, this $68 template is minimalist in design, giving it a very light, clean, and frankly quite Instagram-approvable look that, again, places your products on center stage and truly screams #trending. 
This sleek opening banner just reeks of classic elegance, truly bringing that old proverb to life: less is more! 
Don't let its simple design fool you for lack of benefits though: they offer a choice between 6 different home page layouts to give you the opportunity to really make your shop yours. 
It was devised to be responsive so that the width adjusts automatically to any resolution or size of the screen. 
This leaves you with no concerns over distorted menus or poor resolution because it'll all be crystal clear!
Plus, it offers a 'featured product' option for you to highlight the jewelry that you'd really like to shine (and sell, of course). 
Social media incorporation is a staple nowadays, and its inclusion here, such as connection to Instafeed or Facebook commenting, keeps your shop in on that ever-changing online loop. 
Even more, the implementation of wish lists and product reviews will really aid in making your customers feel welcome and in charge of their own shopping experience. 
Classic, uncomplicated, bold… what more could you ask for? 
Pros & Benefits:
Responsive yet straightforward design that is a breeze to use

Customer-centric menu options for a memorable experience

Quickly highlight your best pieces within the minimal design
---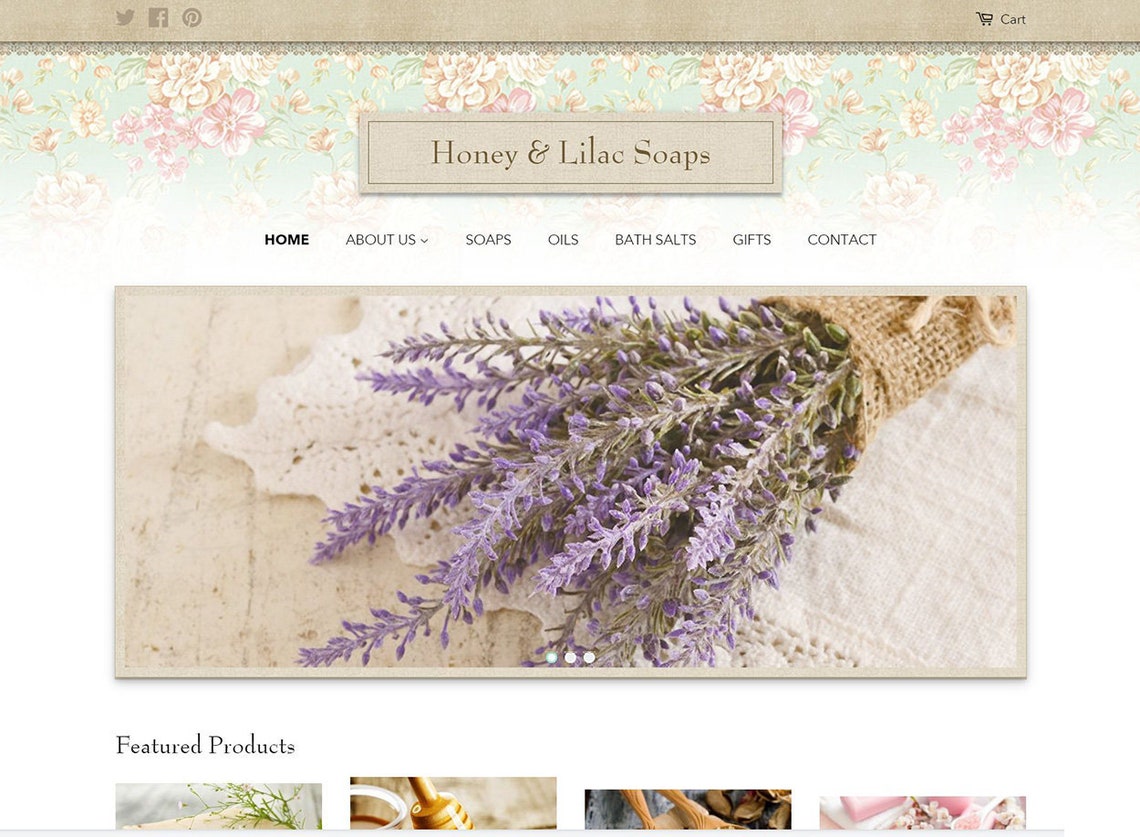 Now, if you're trying to look for something a little less Insta-Modern and a little more whimsy and lace-y, then this might be the template for you at $65.90.
The title of the shop may seem a little familiar because we have already seen a theme from their inventory. 
CreativeCottageCo is highly reputable, well-reviewed, and skilled at what they do, so it is highly unsurprising to find more than one of their pieces in the top 10. 
This just shows the great variety they offer, because each of their themes is vastly different with unique designs, like this vintage floral look that would be perfect for displaying slightly more eccentric, original jewelry designs. 
The gentle lilac foliage draws eyes up and around the screen, perfect for browsing your lovely shop, but is soft enough not to distract from the jewelry being showcased.
The only reason the other ranks higher up is that this design, while lovely, seems less broad in terms of the shopping demographic it may attract. 
The vintage stationary effect is very hipster, but may not appeal to a customer profile suited to modern tastes (did I mention gorgeous though?)
Still, much like the last one we reviewed from their shop, this theme works on a variety of browsers, which negates accessibility concerns. 
It is also entirely customizable in terms of fonts, widgets, and colors, well-depicted with this particularly ethereal floral backdrop. 
Another shout out to the company's highly praised customer service is warranted here, with the same easy instructions and offer to help newbies set up as before. 
Pros & Benefits:
Customizable and highly unique design to pique the interest

Straightforward set-up, with helpful instructions and customer support

Available for several browsers and devices
---
The AP Accessories Shopify Theme by Apollotheme comes in at a slightly more expensive $83, but it is well worth it. 
This opening page reads very professionally, like a modern magazine cover, with sharp cheekbones and contours galore. 
It's many menu options right from the get-go allow buyers to determine exactly where they need to go immediately rather than hunting for menu tabs, which is highly efficient. 
Like many of its predecessors on this list, it offers SEO optimization and Google Rich Snippets to encourage an influx of customer traffic, making your store highly visible. 
It also possesses the unusual opportunity to have your site translated worldwide into several languages, as well as a built-in multi-currency app to convert your prices for customers around the globe. 
This makes your little shop come across as lovely and inclusive, with the added benefit of increasing your sales demographics significantly. 
Furthermore, you would get to reap the benefits of a drop-down mega-menu to aid in efficient navigation, making your site extra user friendly and well-organized. 
This is also emphasized by a quick preview feature where buyers can add items to their cart directly from the preview, without having to reload the entire page for increased convenience. 
This is a genuinely comprehensive template, and everything about the design would give your shop a polished "big brand" feel. 
Pros & Benefits:
Inclusive currency and linguistics to broaden your target demographic considerably

SEO optimization to boost discoverability 

Extra features aiding efficient navigation for even the least tech-savvy customer
---
8.
---
This template is vaguely reminiscent of the pastel cotton candy feel of the last, just toned down a little into a more minimal appearance (and the price was toned down a little too, currently sitting at $125). 
The styling seems ideal for jewelry because it is universal in a way, as it is cute, yet modern, yet bold, yet classy. 
The mood of such a design could be altered by whatever jewelry is placed within it, which gives you as the owner a lot of control. 
The purchase of this theme comes with both a visual demo and written instructions to ensure that you do your shop justice in terms of customization and set up, which is a very thoughtful addition. 
It also offers a based-in map option (for the USA), search bar, newsletter sign up, and product tab sections for a very comprehensive website design. 
One thing that sets this theme apart, however, is the addition of a FAQ (frequently asked questions) page. 
This an extraordinarily helpful tool to streamline shopper's experiences and ensure that it is free of any issues. 
A well-thought-out design such as this is sure to reflect well upon your shop, and your management of it, because it keeps customers happy. 
Another fun feature is the redirect to related products as consumers browse, which is liable to keep them perusing your site for much longer. 
And the longer they peruse, the likelier they are to fall in love with one of your gorgeous items for sale… Which I would consider an absolute win-win in my books. 
Overall, if you enjoy the versatility of design, thoughtful features, and easy installation, then this just may be worth the price tag. 
Pros & Benefits:
Excellent demo and set up instructions to aid in installation

Several comprehensive, useful site features 

Beautiful and customizable in design
---
The last Shopify theme on the list is by far the most expensive, at $205.01, but it has all the features that make it worth checking out or at least stand as a solid contender. 
For example, the most noteworthy is that the seller is offering the template for free (yes, free) to anyone who uses their link to sign up for Shopify. 
So, if you're new on the scene and are just getting started, likely with limited resources, this might be an excellent opportunity to score a lovely theme at no cost! 
Whether you pay full price or no price, you'd be receiving the same benefits as most of the other sites, such as SEO, social media integration, newsletter signup, banners, and customizable colors. 
The design itself is minimal, serene, and light looking (hence its name of 'tranquil'). 
It just makes one think of a deep breath of fresh ocean air – sure to bring a nostalgic smile to any customer's face.
Even better, it is highly intuitive as well as being responsive and easy to use.
You should have no issues with customers being unable to find what they need.
I wouldn't consider it the most comprehensive option compared to some of our previous listings, especially at the original price. 
However, it's undeniably a gorgeous and quite solid design with one very significant financial perk. 
This is a great starter option if you can make use of that excellent offer!
Pros & Benefits:
Free 

I mean, 

free

Did I fail to mention the potential to catch all this for free?
---
Final Thoughts 
This whole endeavor seems a little meta, doesn't it?
Are you buying templates to sell merchandise online?
But disregard that little brain buster.
These ten Shopify themes are, we think, the best choices available currently to get that adorable small shop of yours out of your brain and into cyberspace. 
From modern and sleek to pink and pretty, there are several displays available to give your jewelry the proper showcase it deserves to sparkle. 
Or, as the queen Rihanna herself says, shine bright like a diamond. 
Do you think we just plain missed something?
Give us a shout in the comments below
If you enjoyed this article on best Shopify theme for jewelry, we think that you will also love to read the articles below.
10 Best Places To Find Canva Templates
How to Start a Blog About Your Creative Passion that Makes Money