10 Best Smudge Brush Sets For Procreate
Undoubtedly, artists will agree that something little like using the best smudge brush could make all that difference in their work.
These smudges can even become the distinguishing mark of an artist.
You can call them smudges, smears, texture, etc.
However you call them, they all refer to those imperfect details that coalesce into a perfect picture.
I mean, when you zoom in on the smudges or smears, they look like accidental marks.
The smudges and smears give depth, texture, and dimension to the artwork.
I wondered who pioneered this kind of art technique.
Jackson Pollock  who in the late 1940s placed his canvas on the floor instead so he could draw or paint from all sides.
These brought about the smudges on artworks.
We have collated below 10 of the best smudge brush sets for Procreate, in no particular order, to help you achieve the smudge art technique.
---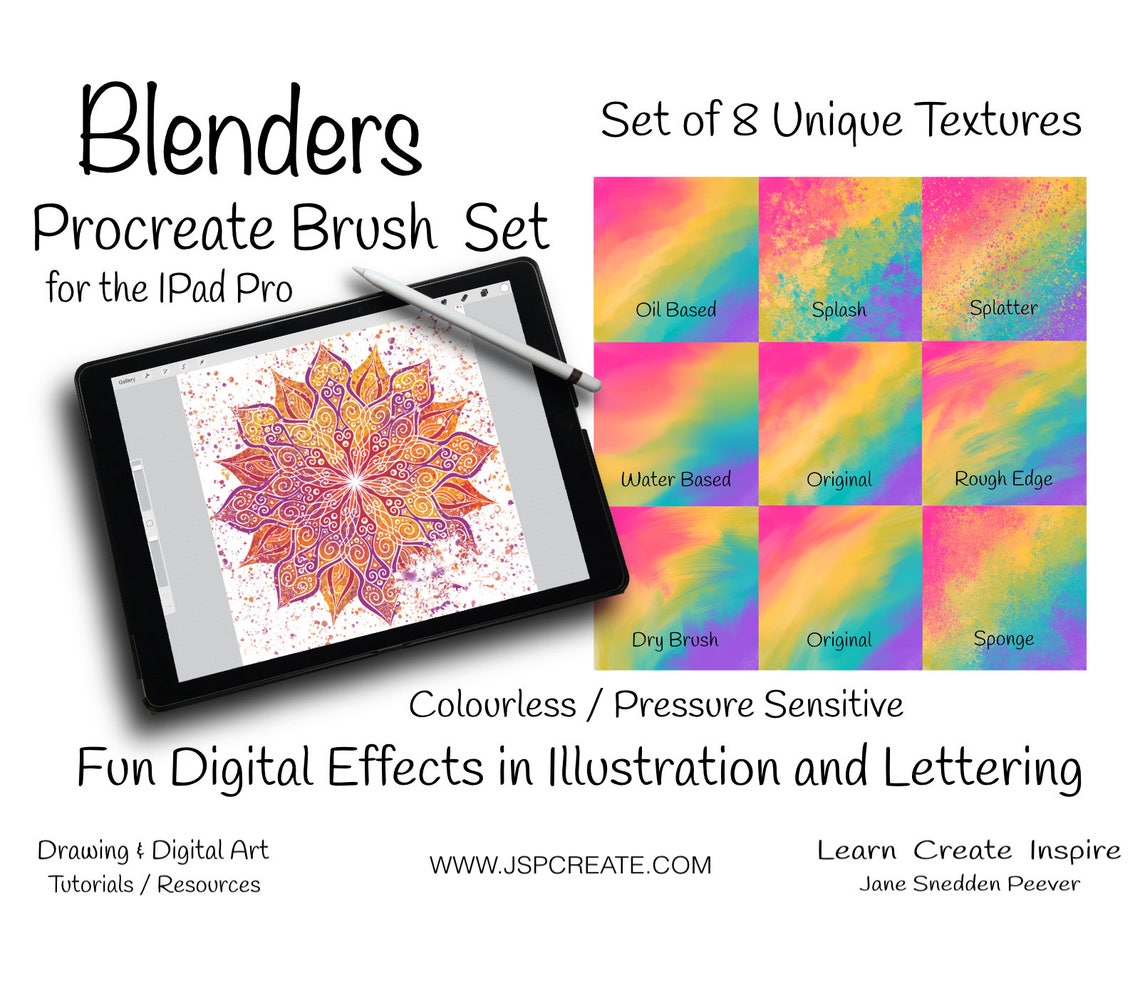 This fantastic and versatile brush set works with various applications.
May it be for oil-based painting, water-based painting, and other authentic-looking textures of blenders!
You don't have to search for a brush set for a specific kind of artwork.
This is because this set works with whatever type of artwork you want to work on.
This set comes with eight custom-made digital blender brushes.
They all work best with Procreate 4 app and with an Apple pencil as a stylus.
With a price of £12.13, you would get the following pressure-sensitive brushes:
Oil-based blender

Water-based blender

Dry brush blender

Smooth blender

Sponge blender

Rough edge blender

Splatter blender (characterized with smaller flicks of water)

Splash blender (described with more massive splashes of water)
The purchase comes in a zip file in .brush file type format.
All these different texture blenders are colorless.
So you must have a digital canvas or layer ready to apply your smudges or smears on.
These smudge brush textures will only blend the pixels on your layer.
That is according to whatever effect you want them to look like from the eight choices.
Whether you want to make the blending transition to be:
Smooth like water-based and oil-based blenders

Rougher and grainy blending transition just like the splash and splatter blenders
All of them are entirely doable!
This brush set is perfect for your digital illustrations, as well as for your fun letterings!
Pros & Benefits:
Brush set effect is likened to various realistic textures

Perfect for digital illustrations and letterings

Pressure-sensitive smudge tools
---
The smudging or smearing technique works aims to soften the texture of your artwork.
Unlike basic shading, you would have to skillfully blend in different shades together cohesively to create dimension.
Smudges remove focus on details.
The actually blur your drawing to create a wispy effect.
Smudges, strategically placed, can make, say for example, the afro hair look puffy and voluminous.
Although this is called a brush set, when you use it with Procreate, you have to use the smudging tool, not the essential brush tool.
With the price range between $2 to $8 (depending on the license type), you will get four finely tuned brushes
Textured smudge

Excellent smudge

Motion smudge

Basic smudge
Choose the appropriate brush to create your desired effect.
Use:
textured smudge, if you want to blend the colors with a grainy overlay effect for a bolder approach

excellent smudge, if you want to blend the colors continuously in a thick bold stroke.

motion smudge, if you want to create a lagging effect on your blending strokes across the drawing elements you apply them on

basic smudge, if you want a laminar effect on your blending strokes as opposed to a thick bold stroke
Pros & Benefits:

 
Finely tuned brush set that complements with the Procreate smudge tool

High-quality resolution with 300 DPI

Four choices of smudge texture available
---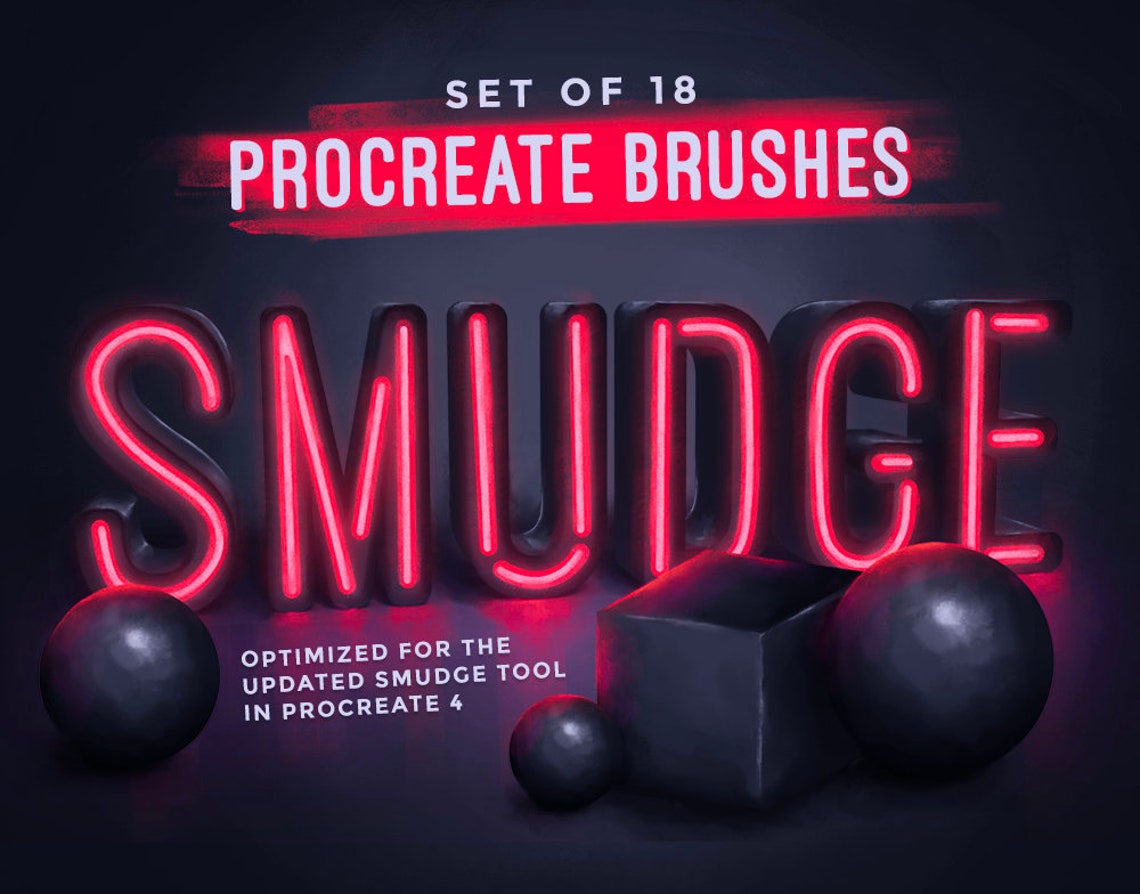 More so than Item No. 2, this brush set is also versatile with more variety of texture choices that display unique color mixing effects.
This brush set tagged at a price of £9.36.
It comes in a ZIP folder containing the 18 digital products in .brush file type format.
These 18 brushes are namely:
Palette knife

Paint splatter

Watercolor

Subtle

Old brush

Acrylic paint

Cross-hatching

Mezzotint

Halftone-Esque stippling

Grit

Charcoal

Pencil

Pencil hatches

Cloud texture

Cloud shaper

Spray paint

Ink wash

Ink splatter
Yes, you will have a whole arsenal of brush and smudge textures, from soft and whimsical to loud and gritty.
What's careful about this brush set is that you can use them either as a regular brush or as a smudge tool.
If you want to create your specific texture effect directly on the canvas, use the brush tool.
If you wanted to just create smears in your readied layer without incorporating any color, simply use the smudge tool.
You can also adjust and vary the smudge strength by adjusting the opacity slider.
Just note that this brush set was made and optimized to be used for Procreate 4 in iPad Pro and with an Apple stylus.
So no guaranteed best effects can be said if you use other iPad models and third-party styluses (but they would still work).
Pros & Benefits:
18 choices of texture smudge effects that depict different types of artwork

Use the brush set either with the brush tool or the smudge tool

Works best with Procreate 4 in iPad Pro and with an Apple stylus
---

Don't you love sunsets?
Aren't you in awe of how the sun can cast a soft hue of light unto the Earth?
Especially when hours before it could get as hot and painful both to the skin to feel and for the eyes to look at?
Don't you love how the mix of colors plays before our eyes?
Even more humbling that this original artwork can be admired at around the same time period each day?
There's just a calming and hopeful effect that you get as you see the sunset on the horizon for a few minutes.
You can gaze at how the gradient changes around the tints of red, orange, yellow, and pink.
Indeed, nature is the best artwork there is.
The Creator is the indisputable and most celebrated artist of all-time.
Well, as earthly human beings, all we can do is copy the Creator's best work by using the best tools we have.
With this blender brush set priced at the range of $5 to $20 (depending on the license type), you get a whopping 30 choices of blender brushes!
All these blender brushes are colorless.
Thus, you will need to create a layer first with regular brushes before being able to create the blending or smudging effect.
You can create color bands in red, yellow, orange, and pink.
Simply blend them using any of the 30 available choices.
You get your own sunset depiction as your artwork.
Pros & Benefits:
Colorless blender brushes that are great for creating gradients

30 choices of differing blending textures

Very easy to work with for beginners in iPad and Procreate
---
Do you know how portrait paintings were done in the past early generations?
They have to glam up and sit (or stand) in front of an artist for hours as the artist captures every feature on his or her canvas.
You may have seen this unforgettable scene in Titanic where Jack made a sketch drawing for Rose, yes?
Traditionally, these drawings would entail dirty handwork.
If you're not an experienced artist, you would have smears and smudges on your paper everywhere, especially for brittle charcoal particles.
But thanks to the digital age, this brush set was created using traditional and real charcoal samples, scanned, then transformed to brushes!
With the price range ranging from $9 to $90 (depending on the license type), you get 20 charcoal brushes for your Procreate app.
The brush set consists of texturing brushes for you to add realistic charcoal elements such as
Smudges and fingerprints

Sketching brushes to create the foundation of drawing outlines and minute details

Texture papers to create a textured paper background beneath your layers
The texturing brushes vary from barely-there dust particles to block shaders.
The sketching brushes vary from smooth blocks and soft edges to stick and flat grains.
Lastly, with the added bonus feature, you can choose among:
Grey cardboard

Textured paper

Toned paper

Watercolor paper all in JPG format for your illustration backgrounds
Pros & Benefits:
Charcoal brush set made from real-life charcoal samples.

Wide variety of texturing brushes to add dimension and sketching brushes to draw your outline

Bonus textured papers available to complete the traditional sketch drawing effect
---
If you're a minimalist and you get overwhelmed with a lot of choices available, then this brush set might be suitable for you.
This brush set just actually consists of two brushes: one for painting or drawing and the other one mainly for lettering.
The product is called "Painter's One Brush."
This is because you only just need this brush set to produce a wide range of artworks.
That is provided that you are a skilled and creative artist.
The Painter's brush is pressure-sensitive to give you the realistic feeling as if you're creating a traditional artwork.
(Minus the mess and the smell of drawing materials, of course).
By increasing the size and opacity, you can shade and cover large areas quickly.
For smudging, you may decrease the opacity in order to blend the tones seamlessly.
Use the smudge brush to blend and mix gradients cohesively and also to create vector strokes.
In fact, you can tilt the angle of your Apple pencil to create thicker strokes or cover large areas.
Do this especially when you are creating a smudge or smearing effect.
You may also decrease the size when you move on to the tiny details or make scribbles.
As for deciding to create hard or soft strokes, you can adjust the opacity for suitable blending.
One more feature is the lettering brush.
This is more appropriate for smoother curves, say when you want to do calligraphy art.
Pros & Benefits:
One versatile pressure-sensitive Painter's brush for minimalist artists

One lettering brush for finer details perfect for calligraphy art

Pressure-sensitive to mimic the realistic feel of traditional art-making
---

This is one of the most significant Renaissance artwork by the great Italian artist Leonardo Da Vinci.
Notice that the outline of the face is blended perfectly with the hair by smudging, as well as the portrait image with its background landscape.
Although the world has not yet come to a definite conclusion on the woman's identity, one thing for sure is that Mona Lisa is an oil painting.
The oil painting has the characteristic of a slow-drying process.
This is because the oil must dry out first for the color pigments to settle in the canvas.
But more and more things are now made instant and possible in this digital age!
If you are inspired by the world's famous artwork, you can definitely create your own using this oil paint brush set.
With the price ranging from $9 to $100 (depending on the license type), you get a set consisting of:
16 Oil paint brushes

2 Smudge brushes

17 Canvas textures
Dealing with oil paints could be meticulous in the aspect of choosing the right kind of oil or in blending them together.
But with the 16 kinds of oil brushes, all it takes is one click and a few strokes to determine the right type of texture to use.
The two smudge brushes available are a circular smudge tool and a linear smudge tool.
Pros & Benefits:
Complete brush set customized for oil painting

Two choices of smudge tools: circular and linear

Realistic oil paintbrush effects to create portraits in a painterly style
---
This brush set has a purpose similar to Item No. 7 but with specific attention dedicated to oil pastels.
Oil pastels create a creamy texture, and they often come in vivid bright colors.
A traditional oil pastel painting is usually glass-framed as the paint does not dry quickly.
But with digital art and using this brush set, which is customized to work just like real oil pastels, painting is only made easy!
Smudging using oil pastels is quite natural because of the oil composition in it that makes it easier to blend, plus it doesn't dry quickly.
The same effect can be applied to the two smudge pastel brushes available in this brush set.
It's price ranges from $10 to $20 (depending on the license type).
The brush set comes with 16 choices, from standard to chunky pastels, as well as two smudge pastels.
As can be seen in the sample artworks by the seller, the smudge pastels effectively blend the colors to create natural-looking gradients.
The brushes are in .brushset file type format and only complements on iOS 11 with Procreate version 4.1 or higher.
Pros & Benefits:
Custom-made to depict the characteristics of oil pastel

Two available smudge pastel brushes for this set

Works with Procreate version 4.1 or higher on iOS 11
---

When we were young, surely we have experienced buying a new set of watercolor for our art class.
Watercolors are readily available in bookstores and art shops because it is relatively the safest to use for kids.
Hence, this type of artwork may be our first painting medium to have tried.
Watercolor paintings are characterized by subdued colors because of the water-based color solution that gives it a transparent look.
It may be more challenging because you have to dab away excess water so as not to damage your canvas.
Smudging is even harder because water is relatively volatile and harder to control compared to other painting media.
An artist must be able to apply proper techniques .
This is because the watercolor paint that you use does not look the same moments later when the water has dried up.
With this Procreate brush set, you can achieve the subdued color appearance of watercolors in your iPad devices.
You do not have to worry about the water consistency!
This watercolor brush set is priced from $14 to $39 (depending on the license type).
It comes with 21 brushes for watercolor backgrounds, 15 brushes for painting, and five smudge brushes.
Beginners don't have to worry about the proper smudge and blending techniques. 
This is because your Apple stylus could simply do the job with this custom-made watercolor brush set.
It also comes with a PSD file with watercolor textures.
Moreover, you also get an installer guide for all device models that could run the Procreate app.
Pros & Benefits:
Perfect for creating subdued color gradients

Gentle and light strokes are quickly registered using an Apply stylus

Brushes are improved and updated for Procreate 5
---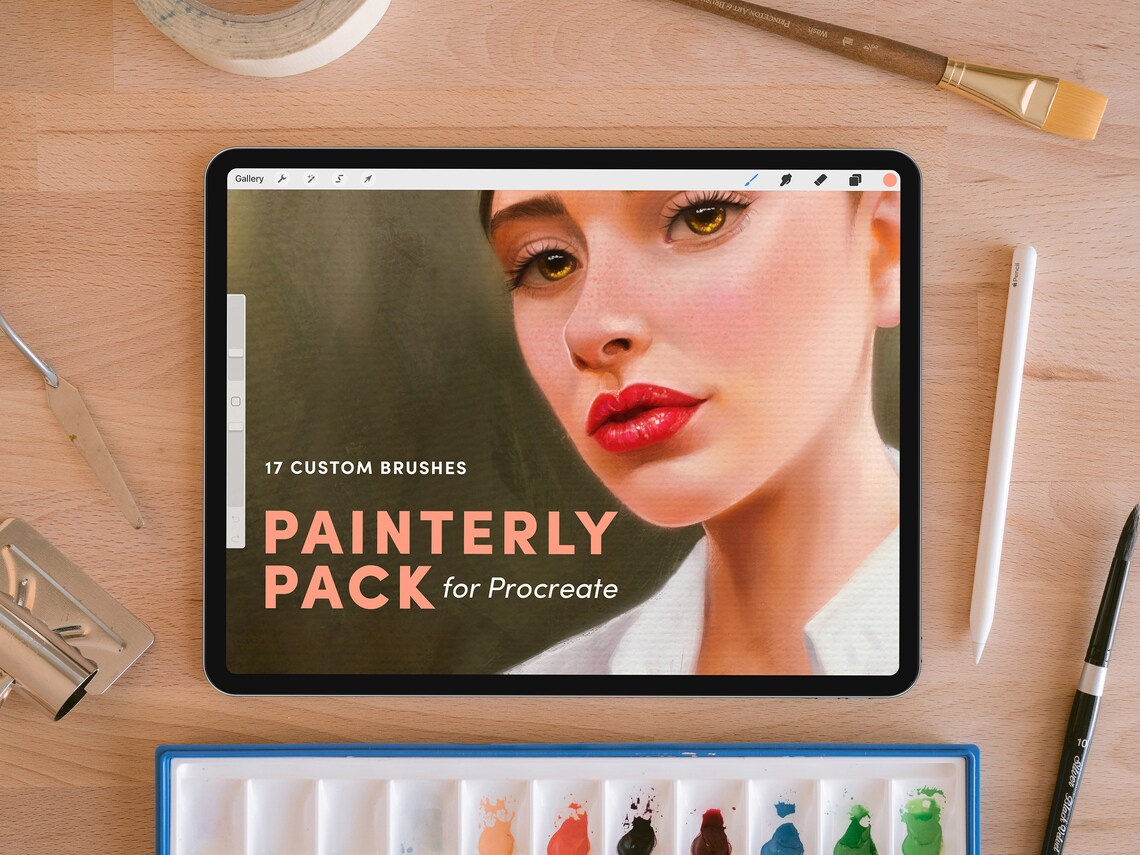 This brush set suits well with portrait images that focus on facial features.
For portrait images, an artist also thinks about the light reflected on the subjects' faces. 
Smudges add dimension and character.
They are necessary to blend the colors of the areas hit by the supposed light with the darker shadow areas.
The same applies to blend the color of the skin with the shade of the adjacent areas of hair.
These transitions must be depicted cohesively as these softer edges give the added touch of reality to the portrait.
With this brush set priced at £8.14, you get 17 varying textures of brushes to achieve realistic painting effects.
The 17 available brushes feature different textures that successfully copy traditional painting media like:
Palette knives

Paint rollers

Acrylic

Oil

Sponge

Many more
Among them, there are three varieties specific for smudge brushes:
Canvas smudge

Dry brush smudge

Soft blender smudge
Two specialty brushes, Jackson Pollock and Impressionism, are also included in the set.
Yes, Jackson Pollock, the guy who apparently said to pioneer the action painting.
These action paitings featured unabashed smudges, smears, and blending.
Do note that this brush set is only compatible to Procreate 4+.
So make sure you have the same edition to get started with this painterly brush set.
Pros & Benefits:
Suitable for portrait painting or drawings

Has two specialty brushes that depict historical painting styles

Has three variety of smudge brushes for softer tone transitions
---
Final Thoughts 
Smudging is now made easy, and a cleaner process with your handy best smudge brush for Procreate!
For your next learning skill, you can search and practice some tips on how to improve blending colors in Procreate.
Have used any brush set included in the list?
Do you have better suggestions for smudge brush sets?
Do you have a recommendation for the best smudge brush set for Procreate?
Don't hesitate to comment and share below for a creative discussion.
For more on Procreate brush sets, you might want to check out some articles below.
What Is The Cheapest iPad For Drawing? Maximize Your Budget
10 Free & Premium Procreate Textures