10 Best Blender Texture Brushes For Procreate
If you're familiar with digital painting or artwork, then you must know about blender texture brushes and Procreate.
Procreate is iPad's wonder app.
It's quite famous with people who know about digital illustration or loves to draw on a green tablet.
In this article, we are going to discuss brushes which are convenient and easy to handle especially for a beginner.
Blender Texture Brushes
Spare yourself the frustration of looking for the right brush set for you,
Big organizations like Pixar and Disney also use Procreate.
Procreate is genuinely a game-changer when it comes to digital illustrations.
It's the best app for drawing and painting.
For both beginners and professionals, you may need new tools from Procreate.
Having a blender texture brush is a great way to add fun to your digital illustrations.
They also make drawing convenient for you.
Here we'll detail the ten best sets of blender texture brushes for Procreate.
These brushes can give an extra-ordinary touch to your painting.
This is done by using textures to manipulate your art to resemble the traditional medium like paints and inks.
A blender texture brush helps you transform add your creative ideas to real awesome images.
It helps give precise color dilution, texture, and characteristics.
Keep on reading to discover our top-rated sets of blender texture brushes for Procreate.
Let us help you achieve mastery of sketching.
Decide which brush sets will be most appropriate for your artwork.
---

Professionals and newbies in painting know the importance of adding shades in illustrations.
Shades add a more realistic touch in them.
But do you know what is more important than adding shades?
Shades in the form of texture.
This set is most suitable for adding textures in the form of shades .
This set is made up of a wide range of pressure-sensitive texture brushes.
They build the density as you apply more pressure with your Apple Pencil.
They're advantageous if you want to add texture in your illustration like :
Speckles

Grunge look

Dappled look

Rough-textured paper

Small grains

Grass texture

K

nitted texture, etc.
Using the maximum brush size can help to fill in vast areas of your canvas expediently.
The brushes in this brush set are designed in such a way that it will help you maintain the texture.
They give an excellent detail to your illustration.
You can purchase this set of texture brushes in just $9 from Creative.com.
You can also visit the page of the creator Bardot Brush.
This is where you can find brush sets similar to this.
Also, you can ask any questions about this brush set.
She has created tutorial videos too of the brush sets she is offering.
Pros & Benefits:
Excellent for adding texture and dimension to flat illustrations

100% seamless and packed with tons of endless possibilities

Gives a natural and realistic look to your pictures

30 handy custom brushes
---
This Collection is getting popular and is currently in-demand.
It has 8 custom-made texture blender brushes.
Each of these brushes is pressure sensitive for Procreate 4 on the iPad.
This set is outstanding for attaining the best digital effects and lettering fun on the iPad.
This is because the blender brush can take the color that is already on your screen on the layer that you're working on and move it around.
It is not adding any color but taking the color that is already there and moving it on two different layers!
It also does have smudge tools.
But, they operate a little different.
The great thing about this blender brush set is that they use the colors that are already on the screen.
So you do not have to keep going back and forth to your palette and remember what colors you are using.
But you can add more colors if you want to.
However, you will not need to add any color because all the colors that you'll be using will be on the screen.
The brush will be moving them around for you.
For further inquiries about this product or how to use this brush set you can visit JspcreateDesigns.
You can buy this product just for $12 from Etsy.com.
Pros & Benefits:
Dilution

– the dilution of color that brush puts onto the canvas

Charge

– the quantity of color or effect at the start of your stroke

Attack

– the quantity of color or effect as you are continuing your stroke

Pull

– tells you how reliable the pull of your colors will be when you go through your canvas

Grade

– it smoothens the texture brushing effect
---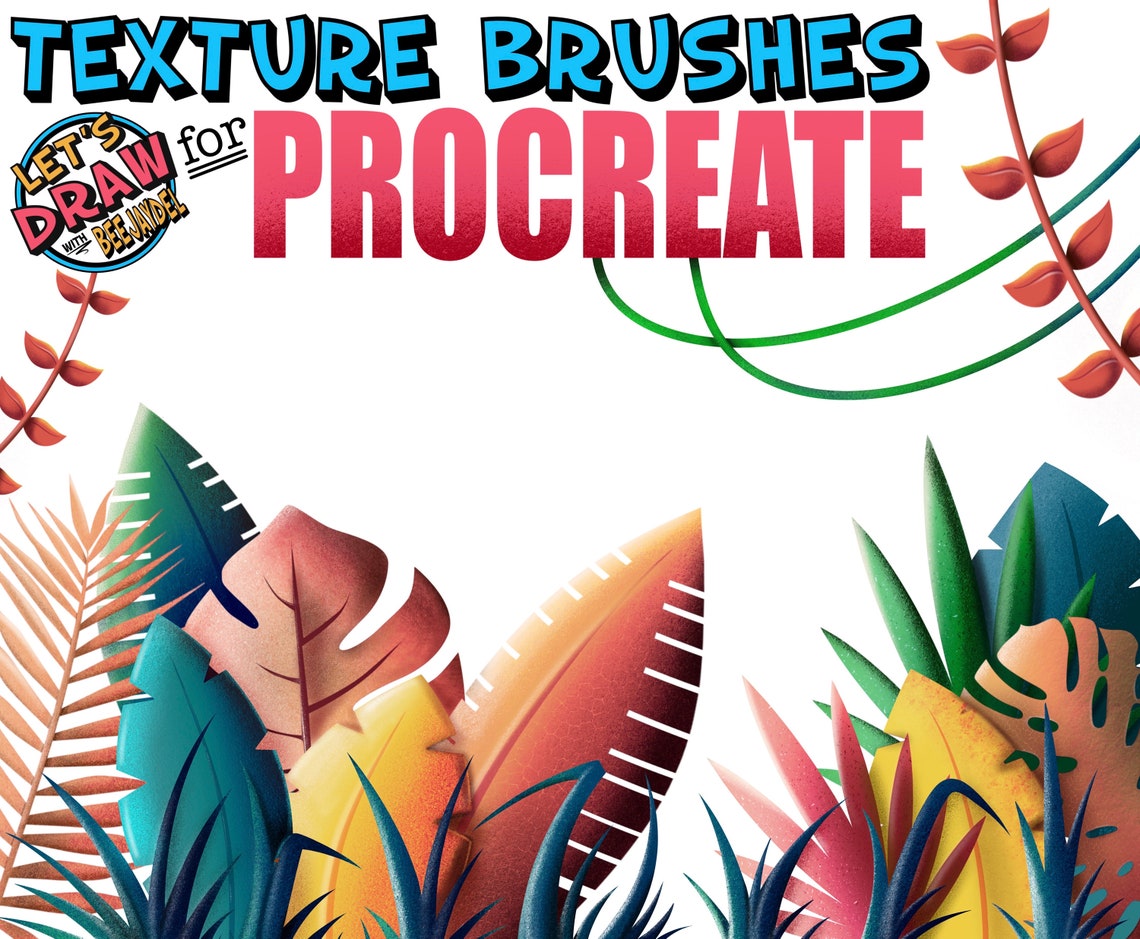 This texture brush set consists of high-resolution texture brushes.
They are perfect for adding shadows, highlights, and details to your artwork.
This brush set is packed with unique tools.
They produce a convincing aesthetic look, with realistic texture and noticeable brush strokes.
The brushes and tools can surely embellish the unique style in your illustrations and arts.
This brush set gives splendid texture effects.
It also provides marvelous attention to the details in the background, especially.
This texture brush set provides a wide range of 15 brushes:
to enhance the capabilities of your drawing skills

bring to light new ideas in your endless imagination
This brush set is comprised of the brushes, which give texture effects like:
Cork

Denim

Feathered crosshatch

Flames

Scales
They lend a more realistic and 3D look to your illustrations.
There are many tools in this blender texture brush set and, all for a low and reasonable price.
You can purchase this set of texture brushes for $5 from Etsy.com.
You can also visit the page of the creator BeeJayDeL for further inquiries.
Pros & Benefits:
One texture grain inking brush

For the creation of 3D like effect

Instant installation
---
If you are trying to portrait a scene where humans are involved, then adding the texture of the fabric will be essential for you.
This is where this brush set comes in.
Having high-quality fabric texture brushes can help you achieve a more genuine appearance.
Fabric Texture Brushes for Procreate
If you are in the fashion business, this is the most suitable for you on the internet.
This texture brush set has beautiful and high-quality textures.
It provides textures like:

Linen

Jeans

Cotton

Knit

Denim

Burlap

Canvas

Bamboo

Leather
People will be amazed with the originality of your artwork!
This set has excellent fabric texture brushes!
Customers who've already used it are recommending highly.
Once you try it, you will literally fall in love with these brushes.
After a while, you will start using them for everything.
The whole pack of this texture brush sets is available for $5.
For further information regarding this product you can visit the page of creator at Seamlessteam.
Pros & Benefits:
Free PDF file consisting of instructions to install and use

11 brushes

Perfect for the fashion industry
---
Do you want to do some illustrations for children books or stories?
Do you also you want the in sales of your books to go up?
Then this brush set is exactly what you need.
This extensive brush set is designed to provide the texture of dry brush effects.
This effect can often be seen in editorial spot art and classic retro 1950s illustrations.
This set contains custom brushes that could be beneficial when you need to add the texture of:
Pencil

Ink

Shades with dry and rough textures
This collection of brushes is easy and fun to use.
It allows you to render illustrations in a unique and remarkable stylus in your artistic work.
The above-given statement is not a mere assumption or suppositions.
They are facts and figures from the reviews of the various customers.
The customers did not only recommended this brush set but have also shared their experience about working with it.
They said that they enjoyed using this set.
The buyers of this brush set are eager to use it to draw illustrations.
To learn more about this product, you can visit Trailhead Design Co.
You can buy this product just for $18 from Creative.com
Pros & Benefits:
30 Custom dry texture brush set

Brushes contain pencils, charcoal, inkers, texture builders, and more

With PDF guide along with example usage

Free easy-to-follow installation guide
---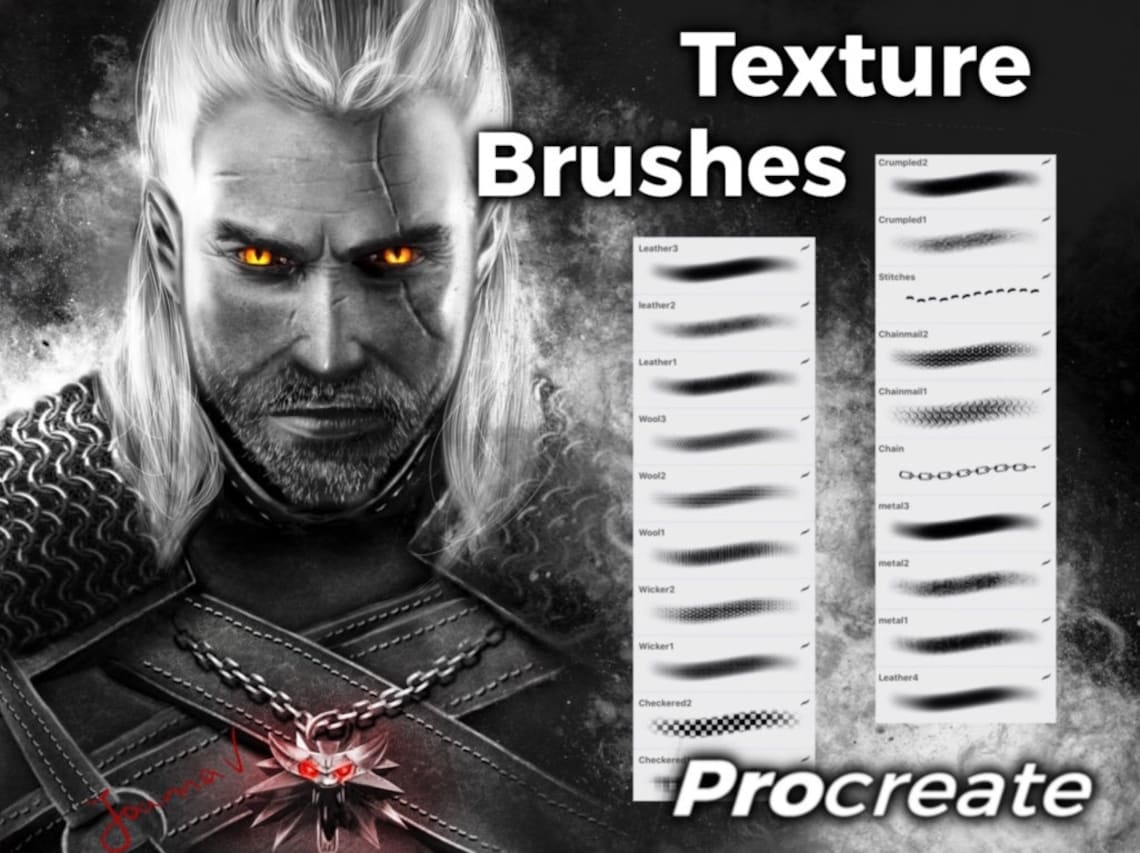 This brush set is superb if you want to add the texture of:
Chain

Chainmail

Leather

Wool

Metal textures, etc.
It has everything you need to spice your character up.
But, it doesn't include any environment textures.
This brush set is packed with unique tools to produce a convincing aesthetic and realistic look.
Each brush produces its own very exclusive look.
You can create spectacular texture effects with each brush.
This brush set is one of the most versatile Procreate tools available for the perfection of:

Illustrations

Sketches

Paintings

Art works

Hand-letterings
This brush set gives a very satisfying, quick, and smooth texture effect to your digital designs.
It helps you attain the goal of furnishing 'natural-looking results.'
For newbies, this set's awesome textures and effects will help you attain a professional looking work.
Purchase this set of $9.03 from Etsy.com.
Visit the page of the creator at JoannaVuArtAndDesign.
You may ask the creator any question about this product.
Pros & Benefits:
20 high-quality multi-purpose custom brushes

Free user guide

Perfect for adding true to life attributes
---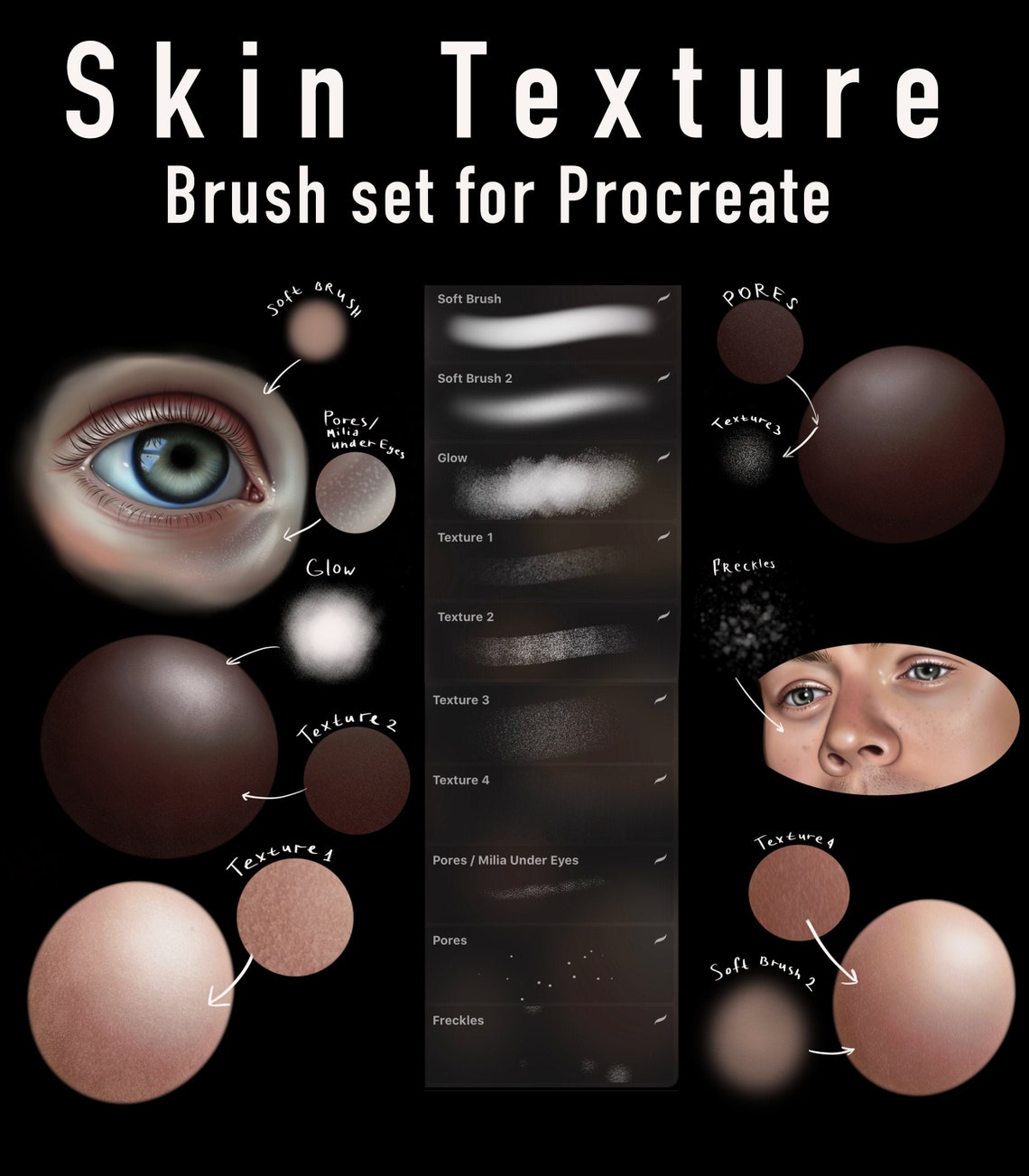 It doesn't matter for which purpose you are creating your digital artistic painting/sketching or what profession you belong to, eventually, drawing the sketches of human figures is like a necessity in arts!
If you are drawing as a professional or as a hobby you are a newbie, you may have known the importance of the human sketch in this field, almost every area of arts requires the draw the design of human.
But keep in mind this no one will appreciate or even take a gaze at your painting (of a human) if they do not have originality.
Whatever you have in your mind, this brush set is guaranteed for you to improve your abilities and help you in making your skills acknowledged in the ocean of digital designing.
With the help of this brush set, you can give the Texture of the skin of a human being expeditiously and precisely and can acquire ingenuity, which will make people astonish.
You can give your human figure sketch freckles, pores, blackheads, or change the color tone of skin very quickly and effortlessly.
Furthermore, this brush set also includes the tutorial videos in which the creator of this set pack teaches step by step how to create human skin realistically.
Moreover, trying this brush set is also easy as they are very cheap and can be bought from Etsy.com for only $7.
The creator of this brush set Lalalamtfk, is available to answer your questions, tell the qualities of this brush set pack, and to guide you on how to install this product easily.
Pros & Benefits:
20 high-quality multi-purpose custom brushes

Real human figure

Bonus of two soft brushes
---
Want to get a brush set in hand, which makes your illustration's appearance so real that people want to eat it!
Well, this brush set is for you then.
The delicious texture brush set for Procreate is the best choice for adding exquisite textures to your art works.
You can add texture to any food, fruit or vegetable.
The texture that this brush set lends a genuine and yummy look to your drawing.
It's a delicious buffet of textures in which you will get a collection of 33 brushes and stamps.
Through which you can create:

Versatile and organic look

Grungy fine line texture

Whole leaves

Petals textures

Halftone effect by using the brush as an eraser
You can give mouth-watering and delicious textures to the background of your artistic work with just a few jabs of your pencil.
Each brush of this set pack has been created precisely to help you add texture to your work.
Other than the brushes in this set pack, which gives the tasty textures, there are also shaders and stamps brushes.
The creator of this brush set pack Lisa Glanz has also created a 12-Page reference guide, which includes all the information the brushes in this set and also tells how to use them.
You can have the Delicious Texture Procreate Brushes for $15.
Pros & Benefits:
6 Shape filler brushes

1 Versatile pencil brush

PDF Reference Guide

Free 12 texture stamps

Brush can be used as an eraser

20 shaders
---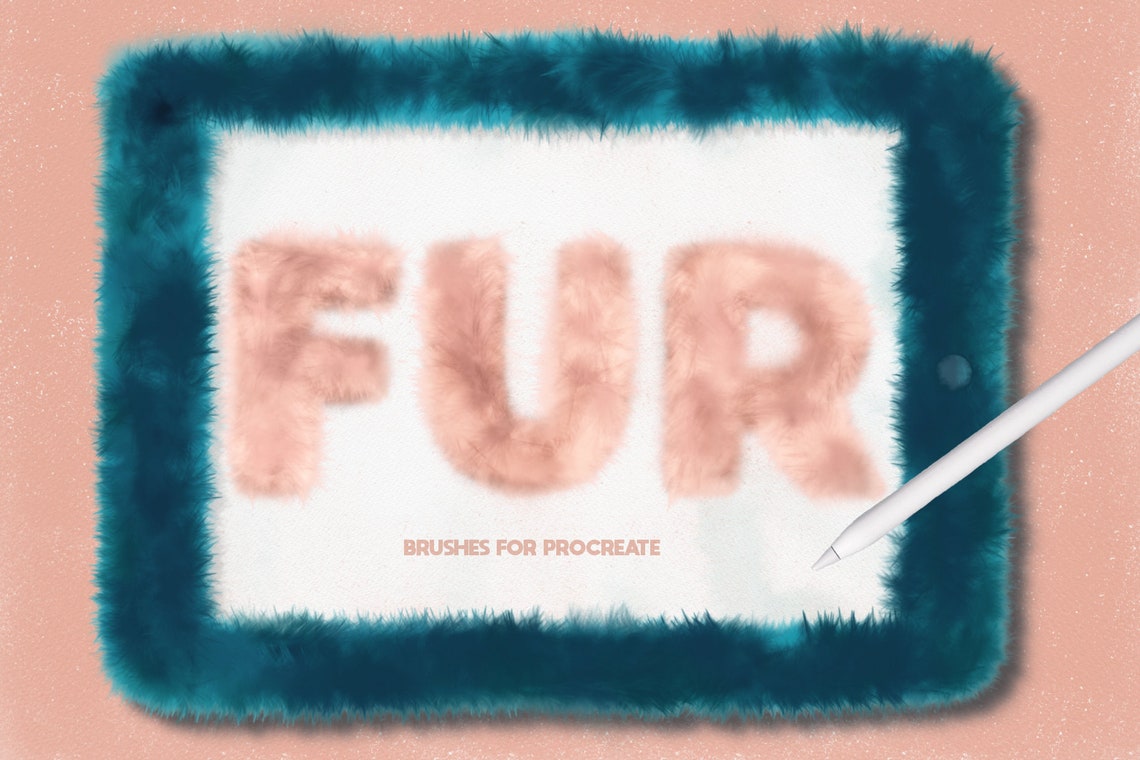 For creating the images of animals or wooly clothes, you will be needing a brush set containing brushes that can give a high-resolution fur texture to your images.
This brush set is the will create the fur texture for your digital drawings.
If you are working as a professional illustrator you won't be disappointed.
It features a layer on a layered texture that will captivate your attention
For the newbies, this brush requires no effort and goes smoothly with your hand on the screen of your Apple iPad.
Many customers commented that this is the perfect tool to achieve a furry texture in paintings.
The price of this brush set is a steal!
Pros & Benefits:
Instant download

14 fur texture brushes

Easy to use
---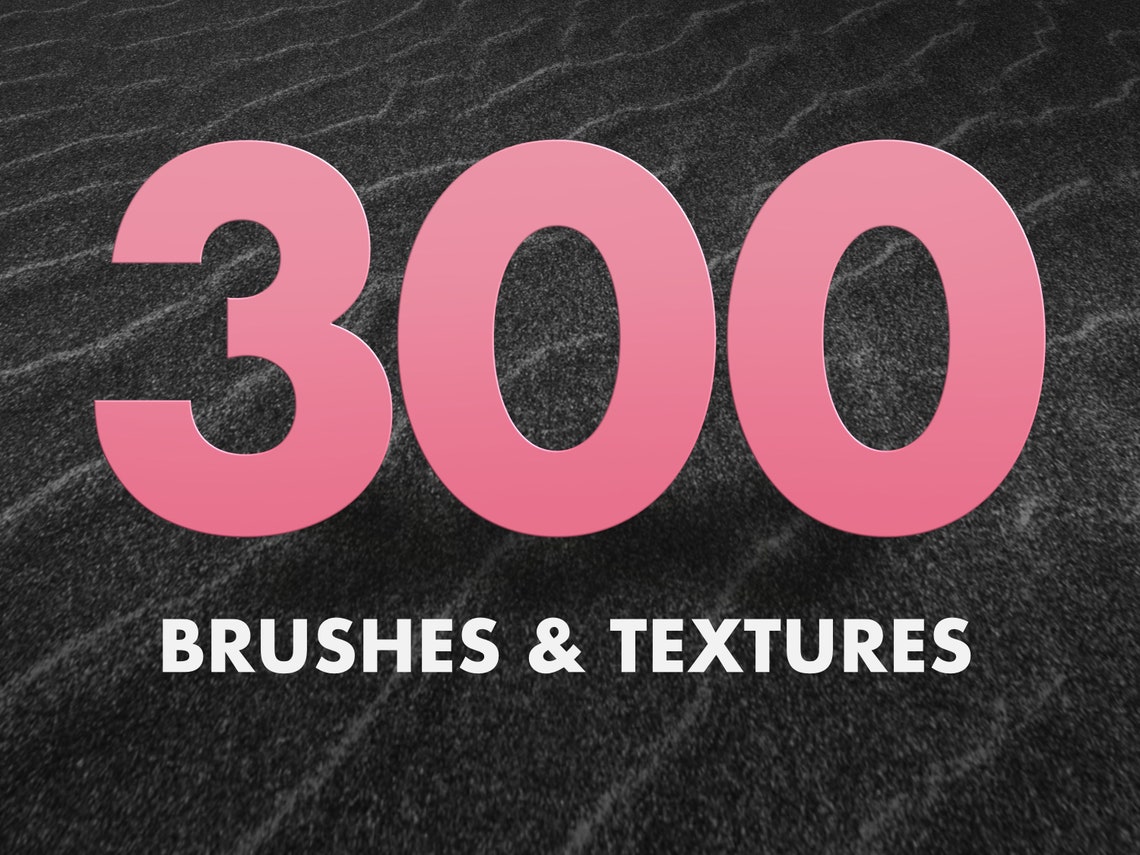 Last but not least, this set contains 300 brushes and textures.
It has a versatile range of brushes.
You will get every kind of brush accessible in this set.
This is the best thing and perhaps made especially for you if you're looking for a professional Procreate brush set.
This is because it contains a wide variety and diverse range of brushes.
No need to buy other brushes after purchasing this.
The high-resolution brushes of this brush set can be used for different projects like:
Posters

Photos

Illustrations

Logo designs

Postcards

Flyers

T-shirts

Typography

Much more
The brushes can create the following textures:
Paper

Light

Glow

Chalk

Flower

Celestial bodies

Fire

Smoke

Clouds

Underwater effects
Here comes the best part!
All of these brushes can be bought for an insanely low price!
If you do not believe me, then that is ok.
You can visit the creator, endete and ask him yourself about the qualities of this set.
Pros & Benefits:
300 texture brushes

Super-versatile

Boosts its user's competency
---
Final Thoughts
So, this is our list of the ten best blender texture brush sets for Procreate.
This is based on the reviews of the customers who have recently used them;.
But please do not limit yourself to these brushes.
You must know what kind of brush set you are looking for and if it suits your subject.
You can search the best blender texture brush set on websites like Etsy.com and Creative.com.
If you enjoyed this article, you might want to check out the articles below.
10 Free & Premium Procreate Blending Brushes