10 Free & Premium Procreate Textures
Looking for free Procreate textures?

You are in the right place!
Procreate is a fantastic program featuring powerful and intuitive tools to empower creative individuals.
All you need is your favorite tablet and the Procreate app to give yourself a portable drawing studio!
Anyone can design beautiful scenic views or elaborate covers for comic books, even birthday cards, and wedding invitations can be done simply and beautifully with the tools found in Procreate.
The creativity of Procreate expands beyond the app itself, with thousands of designers and creators making add-on brushes, textures, and patterns to take your creative process to the next level.
Featured here are some of the best texture add-ons by some of the most talented creators around.
Creativity is endless with Procreate!
Want to have some free Procreate textures, your new set of tools to engage your creativity?
Check out the 10 Procreate add-ons below and get inspired.
---
Our number one pick contains over 50 unique, quality textures.
Perfect for adding realistic, paper, wood, and concrete effects to your work.
This resource is so good we can't believe that it's free!
Download your pack today and add a little flavor to your work
Pros & Benefits:
Huge collection of textures

Paper, wood, skin, metal, concrete, wall and many more

Download for free in seconds
---
When you look at this texture package, you should immediately picture the stunning beauty of the Metropolitan Opera House.
These gold tones and textures will give a stunning vibrance to your creative pieces, catching the eyes of your audience, and expanding the visual appeal of your work.
These high-resolution textures give a luxurious touch to any photo, with a realistic gold foil finish and an illustrious hue that makes each stroke of this texture a sight to behold.
This package includes 10, 2000×2000 pixel textures, which range from bright tones to dark gold patterned finishes, which are sure to find a place in your next creative piece.
These brushes are perfect for holiday-themed cards and give you an easy way to get extra glamor in your artwork.
In a cinematic sense, Goldfinger and Goldmember (two of the most beautiful films ever created) are heavily based around this golden ideology, so why not bring this illustrious construct into the artistic world you are creating?
These metallic tones are fantastic for adding an antique gold finish on photos.
Thanks to the considerable variation in luster provided across all these spectacular patterns.
These files come in a.PNG format, so they have the fantastic ability to be used not only Procreate but other creative software as well!
These patterns are gorgeous and versatile; overall, a great addition to your creative toolbox.
Pros & Benefits:
Vibrant Gold Textures

Cross-Platform Use

Very High Resolution and Detail
---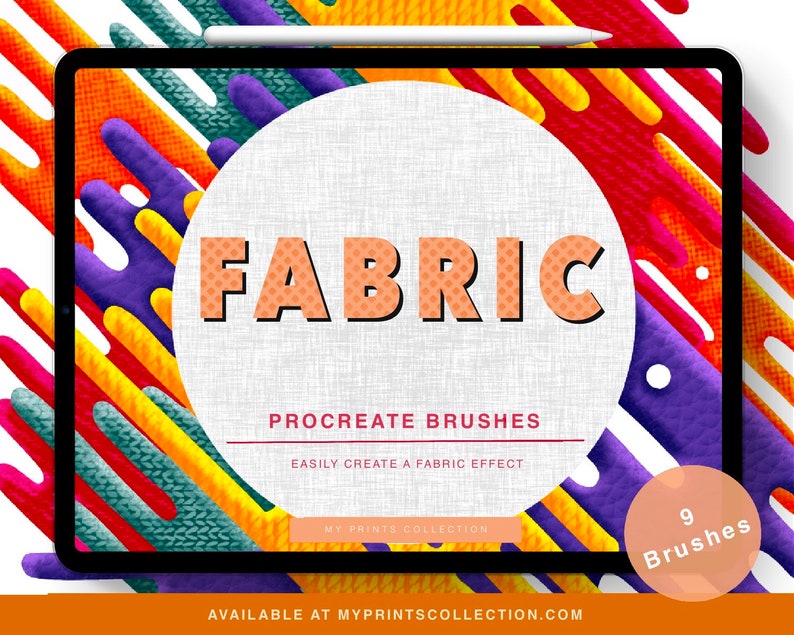 A fantastic set of textures for shadowing and detailing, these pressure-sensitive brushes are an excellent tool for the tablet-centric creator.
Featuring nine brushes with rope, canvas, jeans, leather, linen, knit, denim, polyester, and nylon patterns.
This fabric set allows creators to add realistic cloth patterns to characters or backgrounds that add subtle, yet profound artistic accents.
These are also great for soft lettering and calligraphy.
Moreover, this is superb for creating nuance in both the background and foreground, giving this brush set a wide range of uses. 
Playing with the opacity setting on these brushes can open up a new dimension to the texture.
Be sure to adjust these settings to get the most out of this set! 
These are perfect for use in animation and design, plus they can be used as an eraser as well. 
All these fabric swatches make me think of all the time spent in second-hand stores, just spending time with all the different fabrics and odd assortment of textures.
Getting a beautiful set of pre-worn pair of jeans is the best.
If you want to recreate that feeling in your artwork, this is the package for you.
The Denim and Linen patterns are my personal favorite, the rope and canvas models also stand out as outstanding examples of what this creative tool can do.
This set is fantastic for creating an outfit or jewelry design too, and adds a new tool in your creative ensemble that is truly unique!
Pros & Benefits: 
Pressure sensitive by design

Fantastic for calligraphy and lettering

Friendly for animation and design projects
---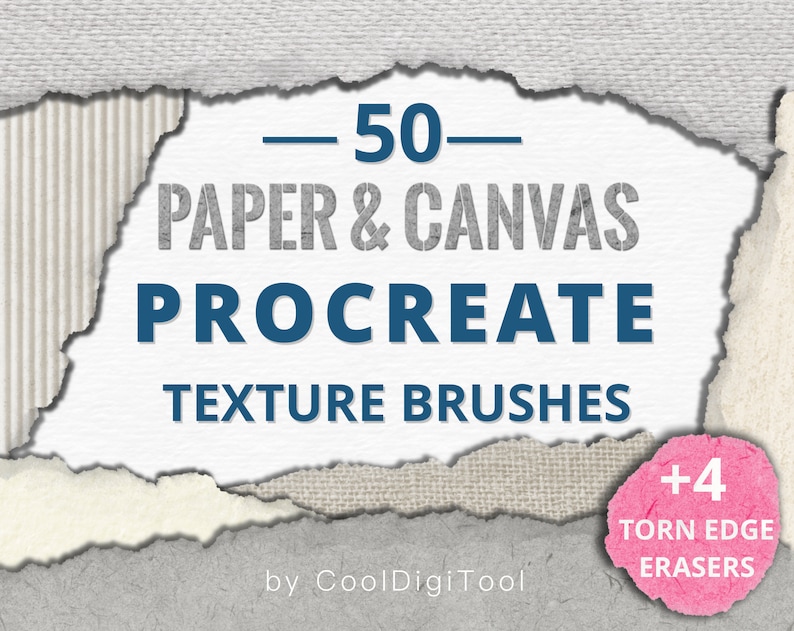 Ever wish you could recreate the feel of a canvas on a digital device?
If you want to combine the old world of paper-backed drawings and the fantastic tools provided by Procreate, this is the texture pack for you.
This package contains all you need to give your drawing a hand made feel that can make cards, signs, and posters a unique feel.
Want to add a more rugged visual effect?
Using the Torn Edge Erasers included in this package, you can make your designs look like they were taken right out of a notepad.
Honestly, I love the torn paper look.
It gives that scrapbook feel and adds a little bit of impulsiveness to the art.
Imagine if you had a drawing so amazing you couldn't even take it out of the sketch pad.
Instead, you ripped it out and rushed to show your friends.
You can get this same expression with this excellent add-on for Procreate.
Putting your paintings on canvas has never looked better on a tablet, with beautiful and detailed paper textures that provide the perfect backdrop for your artistic expression. 
With 50 patterns to choose from, this package provides nearly unlimited creative designs and also includes a BONUS custom color palette made to perfect accent the paper textures included.
With a wide selection of paper, cardboard, and canvas background, the Paper Textures: 50 Procreate Texture Brushes with Organic Canvas and Paper Patterns is a great place to put your next creative work.
Pros & Benefits:
50 Beautiful paper texture

Torn edge erasers

BONUS custom color pallet
---

Maybe I miss the gentle buzz of a neon sign hanging over my head in my favorite local watering hole.
But there is something wholesome about these neon signs.
Emotionally they strike a chord with me and bring me back to the moment when the global quarantine didn't exist.
If there was any time to make some art reminding us of better yesterdays, it's now.
These neon sign add-ons are flashy and full of life.
It features 30 color swatches designed to maintain consistency with the unique color pallet, along with pre-designed backgrounds to make a look that is oh-so-neon.
This add-on lets you add the ever-important buzzing neon sign having over your film noir cityscape.
It helps add a little bit of brightness to even the darkest of tones.
After all, what would Las Vegas be without the massive collection of neon lights spanning the strip?
Get all the visual appeal of Los Vegas without losing all your money at the casinos, getting a little too drunk, and backing out in the shower with the water running.
If anything, this add-on will help you save money and your dignity.
This package works excellent out-of-the-box.
But advanced features and customization are included in a tutorial that comes with this add-on.
Designed for calligraphy in mind, these neon decorations have intensities that go from simple script to a wild glow that will make your T-shirt designs, party invitations and banners jump from the ordinary.
Write in the sky with fireflies with the three unique bonus brushes included in this set;.
There is a fantastic amount of utility and highlighting design that can be both the center focus, or the backlight to your next artistic piece.
Check out the creator here for more tutorials and fresh products!
Pros & Benefits:
Neon

Bonus brushes

Custom background included
---
Blend and blend your shading skills with this great addition to the smudge tool.
Use these 18 brushes to produce unique color blending patterns and gradients that can give you defined lighting and crosshatching.
Using this fantastic smudge add-on to paint over your existing drawing, you can add highlights and details, giving a lot of extra depth and definition to your work.
It is hard for me not to talk about how cool the color blending effects are with this add-on.
The number of unique color gradients and blending patterns you can create are seemingly endless and very well designed.
You can blend the textures as well, giving this set a well-rounded set of abilities for your creating needs.
In a world of flat pastels and mild tones, these are the best way to make your art have that little bit extra while calling back to the older years of buzzing neon signs and adding a dark and seedy tone to the image you are trying to create.
The cloud texture and pencil hatching features are by far the most interesting.
When they are combined with the smudge effect, they have the potential to give some beautiful shading to a new drawing.
Perfect for creating matte finishes that reflect light with that classic muffled look, this add-on gives you a broad set of tools to control the lighting and accent points in your work.
Using the opacity slider in Procreate, you can alter the tightness of the smudge effect, giving you the ability to make hard surfaces softer or dull areas more rounded and polished.
Pros & Benefits:
Amazing color blending

Perfect for matte finishes

18 Brushes for wide-ranging detail
---
Who isn't feeling a little distressed these days?
When we talk about ink, distressed ink has a higher viscosity and is pigment-based.
This leads to a more transparent tone, which is precisely what you get with this add-on for Procreate!
Intended to blend the inking tactics of old with a modern workstation, this set features 112 inking brushes with a wide range of edge detailing, textures and strokes.
While Rusty Nib may make for a mediocre adult film alias, this add-on for Procreate is anything but average!
Each brush was built from high definition scans of real inking work and tirelessly converted into digital form by the creator in order to give you the most authentic inking experience you could ask for.
Included in this package is a series of free updates, so you can be sure that this package will continue to be improved and refined!
My favorite is the Sumi-e brushes that come with this set, which favor bold strokes and thick accent lines.
When it comes to inking, this package gives you a wide variety of nibs, pens, brushes, ink washes, and watercolor tools to give expression to your next piece.
The ink wash effects have to be my favorite from this group, giving subtle tones and nuance that allows your work to the fine-tuned definition. 
Overall, this pack gives you an insane amount of variety while granting instant satisfaction for novice and professional users alike.
Pros & Benefits:
Great for detail work

Fantastic comic book design kit

112 Inking brushes to choose from
---
This tool kit is based on the work of John Singer Sargent and the methods he used to create his masterworks.
These handcrafted brushes allow you to make vibrant oil paintings using high-resolution scans of real oil brush strokes.
But painstakingly digitized and turned into an easy to use (and much less messy) oil brush kit for Procreate.
I would use these with the Canvas kit mentioned earlier in this list.
However, the creator of this pack also includes a seamless canvas texture to create your own oil work in a matter of minutes.
Oil paintings are amazingly timeless for a reason: the elegant strokes and vibrant colors.
John Singer Sargent is a prime example of how to express artistic intent with oil-based paints.
Lady Agnew, a very famous piece by Sargent, is nothing short of a masterful representation of how the rich textures of oil can create.
Now, these tools are available to you through this fascinating add-on.
Featuring 14 brushes featuring dry, wet, glaze, and the canvas texture, this set is a fantastic example of what we can achieve using creativity and technology.
This add-on is so popular among oil enthusiasts that updates were demanded.
So updated brushes keep on coming, and new tweaks and changes continue to improve this set.
With an eye for consistency, the creator emphasized the same canvas texture similar to what Sargent used in his works, so be prepared to paint like a master with this package. 
Anyone interested in oil-based art should investigate this pack immediately and get started on their next creative adventure.
Pros & Benefits:
Fantastic oil colors

Less messy than non-digital oil paint

14 Brushes with a large variety of textures
---
There's nothing more satisfying than creating a cartoon to express your thoughts.
A quick quote and a quirky thought can go a long way.
Having the ability to animate these ideas quickly is essential to making that all-important first draft.
If you like to animate and make short comics, this add-on is a significant first step to emote along the lines of your character.
A fast face matched with a line of dialogue is a fantastic way to get the impression you want for your reader.
I love these easy sketch tools as first drafts for comics or character models.
Having the ability to construct an expression that allows you to visualize your writing coming from an outside emotional character is a big creative step.
This can help you add life and realism to both your writing and drawing.
Once you tweak these preset models or even create variations of these models on your own, you can fine-tune your comic presentation to make it represent what you feel.
These faces are also great for quick and easy greeting cards and poster advertisements.
So feel free to capture some attention with these easy to use tools.
With over 200 brushes, this add-on is great for anyone wanting to learn about facial form or anyone who wants to do fast sketches of people on the street.
(This add-on screams digital street busking)!
Featuring 70 different head shapes and 126 facial features, making simple comic strips or cartoon images of people has never been more quick or comfortable with this fantastic Procreate add-on.
Don't hesitate to pick this one up if the idea of creating faces with full expression quickly strikes you as the way to go.
Pros & Benefits:
Quick and easy cartoons

Street caricature done quick and easy

Massive variety with high definition
---
10.

Budah/Digital Drawing Brush Set

Looking at all those watercolors got me into a very zen mood, so the next texture set we will be looking at is Budha for Procreate.
Featuring 16 textures, this set comes with a free trial download, so you can play around with it before you decide if it fits your needs.
If it fits your flavor, this package gives an amazing and unique assortment of Unalomes and Chakras, giving your next art piece some very peaceful vibes.
This package is filled with fantastic earth tones and textures that give a very grassroots feel to an image.
It would pair very well with watercolors and soft artistic expression.
With the ability to pick between textures like "Quartz," "Marble," or "Fog," among many others, you can create straightforward images that come out as striking artistic representations.
Designed for shadows and detail work, this package is an excellent add-on for those who want to add subtlety and nuance to soft-spoken images and give life to otherwise dead space.
Honestly, a little bit of Zen goes a long way these days, especially when you are locked in the house like we all are at this moment.
If you are the kind of person who finds peace in drawing, check out this add-on and start to sketch your way toward peace.
Less is more with this package.
The ability to simplify images with this talking allows elegance and smoothness that would otherwise be missed in busy artistic pieces.
Check out a YouTube video of this in action and be amazed at how simple it is to create these intricate and beautiful organic structures.
Pros & Benefits:
Deep earth textures

Unique unalomes and chakras

Simple and elegant
---
Final Thoughts
There are so many ways to make these free Procreate textures as your fantastic creative tool.
 With these add-ons, you can expand your designs and find new ways to express yourself on a convenient digital platform. 
 Check out these creative utensils and find a way to let your imagination run free. 
If you found this article interesting, you might want to read the following articles too.
10 Best Procreate Vintage and Retro Brushes
Top 10 Best Watercolor Brushes For Digital Painting in Procreate