10 Best Options for Procreate Blending Brush
Beginner and professional digital artists would always need a new tool like a Procreate blending brush to level up their game.
This is because such brushes are a great way to add dimension to their digital illustrations.
Moreover, they make drawing convenient.
In addition, a Procreate blending brush helps add creative touches to create awesome images.
It helps give precise color dilution and texture to an artwork.
Keep on reading to discover our top-rated sets of blending brush for Procreate.

---
This Collection is getting popular and is currently in-demand.
It has 8 custom-made texture blender brushes.
Each of these brushes is pressure sensitive for Procreate 4 on the iPad.
This set is outstanding for attaining the best digital effects and lettering fun on the iPad.
This is because the blender brush can take the color that is already on your screen on the layer that you're working on and move it around.
It is not adding any color but taking the color that is already there and moving it on two different layers!
It also does have smudge tools.
But, they operate a little different.
The great thing about this blender brush set is that they use the colors that are already on the screen.
So you do not have to keep going back and forth to your palette and remember what colors you are using.
But you can add more colors if you want to.
However, you will not need to add any color because all the colors that you'll be using will be on the screen.
The brush will be moving them around for you. 
You can buy this product just for $12.
Pros & Benefits:

Pressure sensitive brushes
Includes smudge tools
Affordable price
---

To ace your game in digital arts through Procreate, you need to have different brushes to enhance more your digital art.
One of which is the must-have blender or blending brushes set.
If you're aiming to achieve a particular effect such as oil-based, cloud effect, rough edges effect, etc., as well as to do some digital art letterings, this Blender Set is just for you.
You may ask what does this set gives you?
This pack designed by MyPrintsCollection offers fourteen (14) personalized blending brushes for dual-color or multi-color blending, forming both thin and thick lines.
As mentioned earlier, these give you brushes showcasing:
Oil-based textures

Water effect and texture

Dry brush

Rough edges

Splash effect

Sponge brush

Cloud effects

Splatter

Splash

Snake effects
Pros & Benefits:
These are colorless brushes which allows you to freely choose any color you want together with the texture and effect you're eyeing to make

Easy to navigate and use

Various brushes to achieve lettering and at the same time digital artworks with textures and effects
---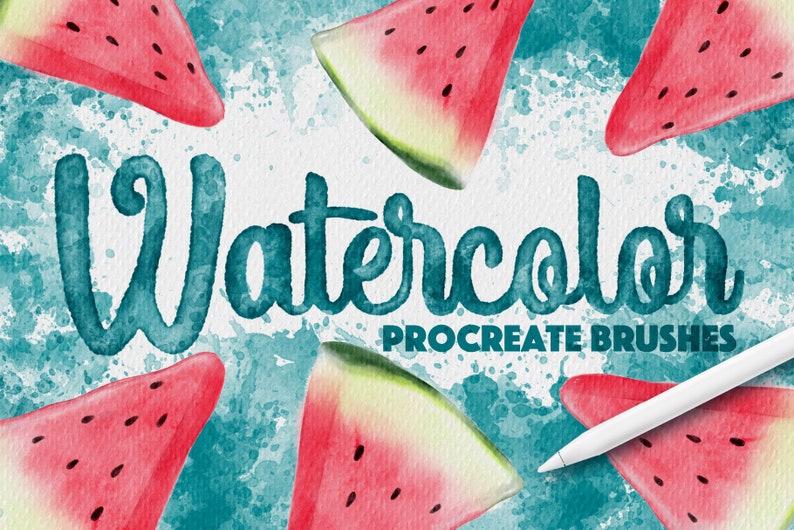 Download Now!
If you're looking for a pack of brushes which includes watercolor brushes, fade brushes, blender brushes, eraser brush, splash brushes, and a salt brush all in one, then this pack is perfect for you!
In order to maximize the use of this pack, it is highly recommended to update your Procreate version to 5.
This set is definitely a good steal and worth every penny because of its features.
The pack includes several paper options to choose from, as well as, a pre-made watercolor background canvas to add effect to your illustration.
It will highlight its artistic characteristics.
As for the blender brushes included in this set, it consists of a soft blender, textured blender, and a watercolor pull smudger.
These blender brushes really blend well with the screen colors.
It will also surely yield to realistic digital watercolor art that's of high quality.
Pros & Benefits:
It's easy to download and very convenient to use

The pack has 35 brushes in total – 18 Watercolor Brushes, 4 Fade Brushes, 3 Washes, 3 Blender Brushes, 1 Eraser Brush, 5 Splash Brushes, and 1 Salt Brush

These brushes speak for itself as it is easy to blend that yields realistic watercolor art results
---

As a newbie in the Procreate app, I'm sure you're looking for a brush pen set that is easy to work with.
Moreover, I am pretty sure, you are also in the hunt for a color swatch that sets this pack apart from the premium brush sets available on the web.
Jenny Gollan, the artist behind this brush set bundle, was also a dreamer artist like you.
This proves that with enough practice, drive, and passion, you can also reach your fullest potential as a digital artist.
The artist described this brush as smooth as butter when in use, as this makes it more convenient for starters in Procreate.
JG Studio Brush Set Bundle includes:
three (3) brushes suitable for drawing, painting, and lettering for it has a fine tip pen 

brush tip pen

blender brush to enhance your artwork's colorway

one free color palette consisting of various marker colors perfect for your Procreate journey
The bundle can be used to achieve dual-color blendings such as those used for calligraphies and typographies, as well as designing fashion sketches and art pieces.
It perfectly works well with the use of your Apple Pencils.
This is because the brush pens are extra sensitive in pressure in order to create a more vivid and state of the art pieces, may it be calligraphies or digital artworks.
Pros & Benefits:
It comes with various marker colors set as your additional go-to Procreate color swatch

Three brushes work well multi-purposely for your digital art needs accompanied by a blender brush for dual-color or multi-color use

This brush set bundle is easy to use and navigate
---

These blender brushes offered by Seamless Studios transforms any solid color brushes to various textures and styles outcome may it be seamless texture or smooth style in your artworks.
It does not only work as a blender but at the same time as a smudge brush in which it also creates fantastic dual-color and multi-color blends and textures.
What's inside the pack? The Blender Brushes pack is made of thirty (30) colorless brushes that are very convenient and easy to use as you create textures and blends in your work in progress masterpiece.
As mentioned above, blender brushes are colorless.
So in order for the brush to take into effect, you need to use regular brushes to put solid colors into the canvas.
Then, you will discover the magical effect of blender brushes!
Just like several shades of blue waves could transform into a soft yet textured canvas art.
In order to fully access and enjoy these brushes, you need to have at least Procreate version 4 and above as well as your iOS should be version 11.
Pros & Benefits:
Very user-friendly to use and apply

Has a variety of brushes to choose from whether you're opting for something smooth or has texture type of brush

These brushes are colorless
---

For those who don't know or aren't familiar with Procreate yet, the watercolor feature is an add-on to the app in which it lets you paint as if you're using actual and realistic watercolors that give different textures depending on the brush size and type you're going to use.
This fantastic watercolor painting kit for Procreate features thirteen (13) brushes that can be used all-around, including blending colors making a water blend texture or an ombre type of blending, yielding realistic state of the art results.
The custom-made and handcrafted watercolor brushes included in this kit are:
HD Pencil

Fine Liner Pen

Smooth Pen

Smooth Leaf Fade

Abstract Round

Smooth Round

Hard Edge Round

Sharp Round

Hard Edge

Soft Blotch

Blotchy Wash

Mist, Stippling

Water Blending Brush
If you're aiming to recreate Instagrammable and beautiful illustrations using this watercolor kit, yes, it's very recommended to use this one as it's perfect to use when creating illustrations and typographies or letterings.
As for the texture featuring this watercolor kit by Drifter Studio, it includes a cold press watercolor paper texture in which you can choose between painting on a white canvas or a full watercolor canvas to achieve that optimum surface you're aiming to have.
In order to fully enjoy this fantastic watercolor kit featuring 12 watercolor brushes and a water blending brush, you need to have your Procreate app updated to version 5, as well as the latest iOS version of your iPads and of course, an Apple Pencil to achieve that desired texture outputs.
Pros & Benefits:
It's simple to use and don't need complex brushes to come up with marvelous artwork

These brushes are perfect for making watercolor illustrations and typographies

Included in this watercolor kit is a cold press watercolor paper texture
---

Do you need some brushes that'll work magic for you?
Then, you might consider adding this brush set to your cart.
Fade & Shade Brush set is perfect for those artists who want to highlight realistic and seamless patterns in their art pieces.
This is not only applicable for digital illustrations but also for typographies and those who wanted to pursue letterings.
Make your masterpieces shine through this set as this includes ten (10) shading brushes and fifteen (15) texture brushes. 
In addition, the pack includes an in-depth step by step lettering tutorial on how to enhance your work by adding shadows and playing with some textures to make it more alive and appealing.
Pros & Benefits:
3 Lettering Workbook Tutorials are included in the Brush Set

There are several textures you can choose from to make your artwork more realistic and stand out among others

It also works on creating letterings and typographies!
---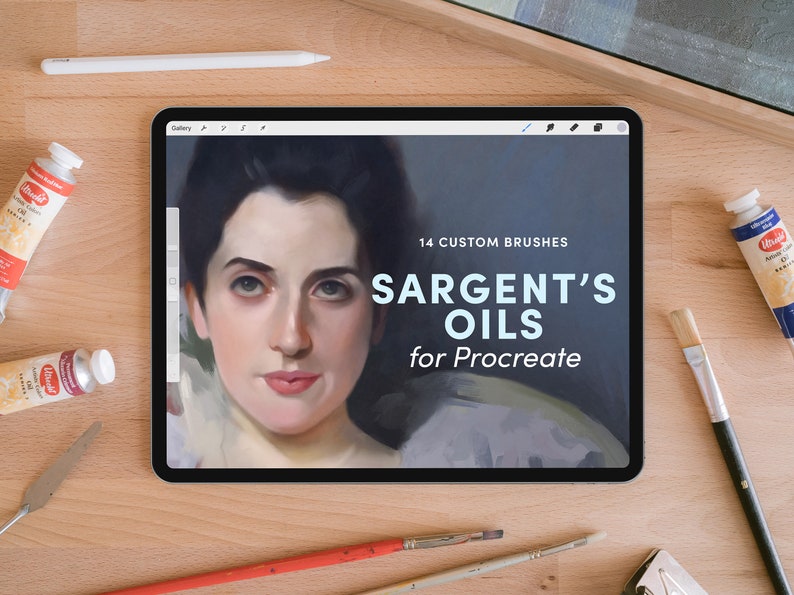 Download Now!
In case you didn't know who's the inspiration behind this custom-made brushes, John Singer Sargent is one of the best and most successful painters during the Impressionism era showcasing paintings and artworks of landscapes and watercolors.
Sargent's realist paintings inspired Sadie Lew, the artist behind this brush set bundle, to handcraft brushes customized to achieve the same texture and style of Sargent's brushes used in his paintings at that time. 
This oil brushes pack, ala John Singer Sargent's works, includes fourteen (14) realistic brushes that will give you seamless texture as it's laid out on canvas similar to the practices of John Singer Sargent's.
To give you a glimpse on what brushes are inside this bundle, here are some brushes that you can use for blending:
Wet Streaky Flat brush can be used for color blocking as it has streaky bristles that can also be used as a smudge tool

Wet Bristle brush has stray hairs, actually thinner than of the wet streaky flat brush, which is perfect for blending colors and giving texture to your artwork

It also includes a canvas texture brush in which you can use for blending, smudging, smoothening edges, and to add additional canvas texture on top of the paint
Sadie Lew shared that if you wanted your paintings to be like of Sargent's, increase the brush size or at least use larger brushes in order to achieve those broad brush strokes.
Also, start with light paint colors first, and end your painting with the darkest paint colors.
Even if you're not resonating with Sargent's artworks and paintings, you may still use these babies while creating your own style and texture.
This is because of these versatile brushes doing their thing to produce realistic oil-painted outputs. 
Make sure that your Procreate app is updated to version 4+ and higher to enjoy these beautiful brushes by Sadie Lew.
Pros & Benefits:
These brushes are multi-purpose and easy to use

The bundle consists of handcrafted brushes that are actually similar to John Singer Sargent's realist paintings show

Versatile brushes that will give you an oil-painted work output
---

Are you planning to go for portraits in Procreate?
Are you looking for some smudge brushes that would help you blend colors such as skin tones and hair colors well?
We got you covered as Haze Long is giving away her smudge brushes in Procreate for free!
Yes, you read it right.
It's for free!
But she's accepting donations in order to give you guys more freebies and tutorials about Procreate.
These smudge brushes are one of the essential brushes one must have and need to know when starting one's journey in Procreate.
It has an icon of a finger when you go to the app's brush library.
A smudge brush can be used for blending colors, may it be two-toned color or multi-colors, in your artwork, and mix and match different colors.
Moreover, they are also used to smoothen out edges and/or strokes to polish your work in progress masterpiece.
The after-effects of blending using smudge brushes vary depending on various circumstances.
For example, the opacity controls the strength or gravity of the smudge tools effect.
If you want to show a more defined output, you need to increase your opacity while decreasing the opacity would lead you to a subtle blending effect. 
If you're using a smudge brush at its fullest capacity or pressure, expect results similar to wet paint as it mixes colors very quickly.
So you need to adjust the opacity for you to control the color smears.
On the other hand, you may use the smudge brush at a low strength or pressure to produce gradients, shadows, highlights, as well as smoother and polished outputs.
You might want to watch this video tutorial by Haze Long about her smudge brush set and how to blend brushes like a pro.
Pros & Benefits:
The set is composed of 8 brushes all for free

There's a video tutorial on how you can download as well as use these brushes

It can be used both for having a sharply defined output as well as a polished one with a softer and smooth texture
---
A wise man said that there's no such thing as free lunch.
But not in Georg's case because he's sharing his fantastic brushes to everyone, especially to those aspiring artists out there who wanted to share their talent through Procreate.
This brush set is a collection of his pieces exclusively for Procreate.
This set includes:
Rossbob Crude Oil P4

Crude Oil

Coarse Marker

Copicesque Chisel Texture P4

Pastel Sprays

Blending Sculptors

Gleaming Glitter
As for the blending sculptors or brushes, Georg shared two types of blending brush, namely: (a) blender brushes intended for soft colors; and (b) gradient brushes.
The Rossbob Crude Oil P4 paintbrush also works well as blending brushes as well as a brush to soften edges, which are very appropriate for oil paintings.
If you want to achieve the best resolution or results of these brushes as possible, it's highly recommended for you to use and/or have a stylus or Apple Pencil when using Procreate on your iPads.
Georg also shared some tips and tricks on how to use blending brushes in Procreate.
One of his suggestion is to set the blending mode to Multiply or Overlay in order to have an additional texture on your artwork.
Additionally, apply a 50% canvas texture overlapping your sketch or illustration.
For more hacks and tricks from Georg, you may check his blog.
He also generously shared a video tutorial about blending brushes for you to enjoy and follow.
Pros & Benefits:
It is free, but you can give any amount or donation to pay tribute for Georg's talent

Variety of brushes to choose from

The creator shared some tips & tricks on how to master Procreate brushes and gave video tutorials for you to follow
---
Final Thoughts
Indeed, a Procreate blending brush is very versatile and useful in various illustrations and digital art you're creating.
This art could be watercolor based, oil-based, and many more.
Most of the brush kits and bundles are not for free so as to give proper credit for all their hard work and effort poured in this brushes.
The creators would like to provide you with the best possible brushes you can ever think of.
But there are also free brush kits handcrafted by some artists for you to enjoy.
So, to give more color and blends in your artworks combined with your creativity and imagination, check the free procreate blending brushes that can be your go-to and staple blending brushes.
If you loved reading this article, you might also love these articles below.
10 Best Procreate Vintage and Retro Brushes
10 Best Procreate Tree, Botanical & Foliage Brush Options