10 Best Procreate Gradient Brushes
Whether you're a beginner or a professional, you will surely need the Procreate gradient brushes to make your digital art come alive!
As in any form of visual art, a defining, and powerful tool that an artist can possess is his/her brushstroke.
The Procreate gradient brushes have been developed to inspire the most traditional and contemporary artists among us.
Especially if we consider the multitude of effects they have been designed to create.
Procreate's list of 10 best gradient brushes is worth adding to your repertoire of creativity.
These brushes will surely level up the way you blend, add color, change the intensity, or sharpen your artwork.
So, grab a set of gradient brushes today and start creating artwork that is versatile, inspiring, and beautiful!
---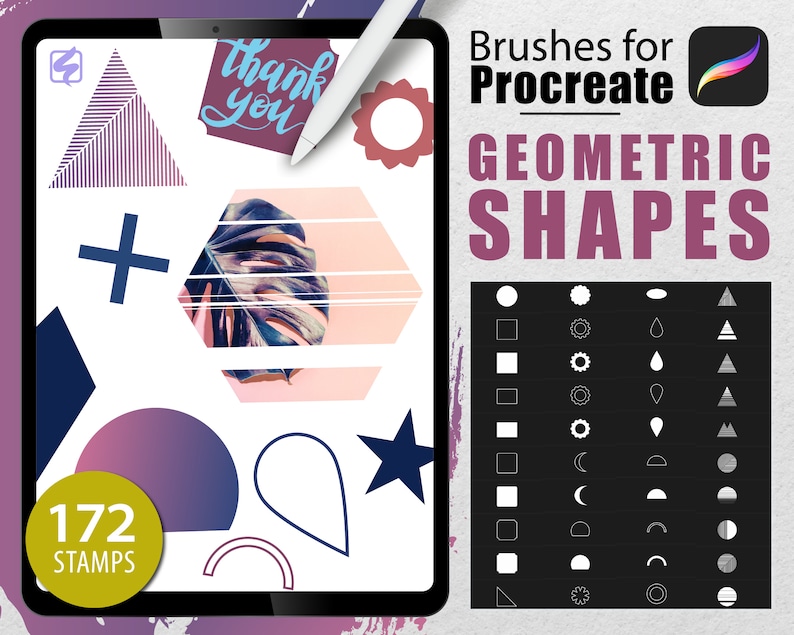 This product is a Procreate gradient brush set combo of note as it is versatile and can be used for so many projects!
Whether you use the geometric shapes for stamps, creating frames for your favorite artwork, decorating a scrapbook, or even for creating tattoo motifs, this is the brush set to get for your collection.
The brushes are very easy to use.
The 172 different shapes and frames included in the set is excellent value for money at only $6 on Etsy.com.
Use these brushes to:
Create quick background elements and detail

Add texture to your artwork

Create drawings without a fuss

Add shading

Use the palette to create autumn-inspired artwork
Whatever you want to use these brushes for, they are guaranteed to improve your Procreate gradient brush experience!
Pros & Benefits:
Easy to use and versatile

Super value for a large number of brushes

Enhances almost any artwork
---
If you are looking for a set of gradients that can do most of what other individual brushes are designed to do, look no further than this set, which can be found on Creativemarket.com.
This set just bursts with offerings of vivid color and a variety of gradients that are user-friendly and adaptable.
Beginner media artists tend to shy away from using gradients until they have more experience.
However, with this set, you don't have to!
The adaptability of the brushes ensures that you can choose the direction of the gradient with one easy click and create lettering that is smooth and bright!
If you are an illustrator, the gradients in this set can lock the layers of your background and fill any space quickly by only resizing the brush.
Other effects that can be created are shadows, and 3D volume – the adaptability of the brushes allows you to use the desired direction directly to show shadows accurately.
Finally, for those artists who cannot resist adding a bit of bling to their artwork, choose between glints of gold and tin to create that perfect metal effect.
At $15, this brush set is a remarkable value for money, if you are looking for gradients that can set your artwork apart from all other!
Pros & Benefits:
30 Gradient stamps in high resolution

Perfectly smooth stretchings of color

The bonus brush set includes trending texture
---
This product is excellent for those media artists who just love the color (and who doesn't!) and who want to create dreamy-looking illustrations!
Well, now you can – this set of brushes designed by Jenny Gollan Designs for Procreate is the ideal set of brushes to add gradients to your lettering or artwork.
The color palette is indeed 'dreamy.'
Consider hues of blue, aqua, purple, and pink to create a world of magic on your iPad.
This dreamy collection of colors can be used to create backgrounds and/or as fills for lettering.
The color palette uploads the same way as a brush set, and the bonus is that the colors can be used for any other project you want to create in Procreate.
This product is exceptional value for money and can be viewed and purchased on Etsy.com.
To get more insight into the beautiful artwork that can be created using Jenny Gollan's gradient brushes, visit Jenny Gollan on Etsy.com.
Pros & Benefits:
Includes 30 matching colors

Can be used for any project in Procreate

Does not require pressure sensitivity
---
If you are a watercolor enthusiast, you will know that what seems like a simple execution of a painting effect is indeed a skill that has taken years to perfect!
For those artists whose preferred medium is watercolor, comes a gradient brush set that will create strokes akin to the most realistic effect.
The reason for this is that Procreate created an oval-shape brush with a gradient fill that reproduces the patchy watercolor effect.
Another feature that makes this brush one of the best on the list is that it's actually a wet mix brush, which means that the effect is one of paint mixing with water.
Also, each brushstroke made with this watercolor brush contains gradient textures that create a myriad of watercolor effects that dances and vibrates across the canvas.
Added bonus is that this brush is also a lettering brush with elements of calligraphy strokes, which means that you buy two brushes for the price of one.
This brush and similar Procreate gradient brushes can be viewed and purchased on Creativemarket.com.
Pros & Benefits:
Creates realistic watercolor effects

Mix with markings like water

Also perfect for calligraphy
---
Not all that shines is gold?
Think again!
With Procreate's metallics color palette from Etsy.com, you can build perfect gradients that shine brightly!
The advantage of working with a palette is that you can control the outcome of your artwork.
A little bit of practice will surely help you create perfect gold and silver gradient effects to enhance any artwork you choose to create.
The metallic effects are created by sliding the Magic Wand tool to the right until you've achieved the perfect metallic effect.
Metallic gradients are especially useful on dark backgrounds.
Additional sparkling effects can be created by adding a dash of pure white as highlights.
Not all that shines is gold, but in the case of Procreate Color Palette: Gold, Silver, Rose Gold Metallic Gradients, is most certainly is!
Pros & Benefits:
Easy installation

It does not require pressure sensitivity

Achieves perfect Metallic gradient effects
---
If your wish is to differentiate your art from the mass media and paint like the old greats before you, then this product is for you!
This gradient brush set from Procreate contains 18.
Yes, that's right!
18 fantastic oil painting brushes to create the most realistic oil paintings and illustrations.
It is hard to imagine that a single brush set can contain all the tools necessary to create an oil painting.
If you are not familiar with painting with oils, go and stand close to an oil painting.
See how many different brushstrokes you can identify on that one canvas.
Oil painting requires technique and the right set of brushes to create the layered effect and blending of colors.
With this product, available on Creativemarket.com, you can create timeless oils and save time by creating as many layers as you wish.
The brushes enable you to blend strokes without sacrificing oil texture and canvas quality.
This exciting pack of brushes includes all of your oil brushes must-haves, i.e., a thick brush for applying massive color blocks.
They are:
"Fatty" wider brush for filling in backgrounds

"Super Dry" round brush for adding subtle gradients

"Turp Scrap" which can add a turpentine scrub effect to your paintings
Pros & Benefits:
Most realistic oil painting brushes on Procreate

Brushes are fully optimized for pressure and tilt sensitivity

High-quality canvas and oil texture
---
Do you enjoy doodling?
Or are your perhaps anything like my colleague who draws cartoon figures of all of us during a meeting?
He's pretty good though!
I'm sure Procreate's Pencil Brush Pack is one of his favorites!
The reason these brushes are just the very best of them all is that they have such awesome drawing and sketching ability.
For any illustrator or just a doodler, this is a win-win situation.
Or you can just ask "On the Mark Designs" who created this pack of tried and tested, best-ever pencil brushes.
The set contains eight brushes, all of them which are pretty accurate pencils.
This depends on what you want to use them for.
The OTM Favorite Pencil is just that, OTM's favorite pencil brush that he uses every day.
Then, depending on the creative mood you find yourself in, you can choose any of the following:
OTM
Blocky Pencil, which produces a very nice thin and thick look

Small Round Pencil which he mainly uses for sketching

Large Pencil which can fill your letters and creates funky-looking letters

Rough Pencil for those of us who want to bring in a few rough edges and texture to our everyday doodles.
The point being, if you enjoy visiting art supply stores on your off days, this product from Creativemarket.com is a must-have!
Pros & Benefits:
Tried and tested for Procreate on iPad Pro.

It creates a variety of gradient effects for illustrations.

Includes the OTM 3D Shader to add texture and depth to pencil drawings
---
I've never had a tattoo, but I don't have a problem with those who have them.
As a matter of fact, I really admire some of the tattoo artwork I've come across.
So, if you are into tattoos, or want to create tattoos, this is the best gradient set of brushes to get.
Why?
Well, just look at the image above.
Have you ever seen stippled textures and ink outlines that look so authentic?
The reason being is that all the brushes in this set were sourced from original hand-drawn material.
They were created by a professional illustrator to create quality and functionality that work together in perfect harmony.
This brush set from Creativemarket.com is made up of a choice of 3 Stipple Brushes and 8 Ink Liners and at the very affordable commercial price of just $17, can you afford to not start your own tattoo parlor today?!
Pros & Benefits:
Original material has been re-engineered and refined for Procreate.

Best-selling product – original illustrator version sold over 1000 packs.

Includes a quick-reference PDF guide.
---
I would buy this product just because it looks good enough to eat!
Have you ever felt this way?
I mean, you buy doughnuts or candy, or something irrationally wrong for you just because the packaging overrode all your sensible dietary conventions?
Well, in the case between "Yummy Shaders" for Procreate and myself, the "Yummy" won, and I mean, by far!
It's not because I want everything I create to be edible, just close enough, you know.
What makes these illustrations so delectable?

I would say it's the:
Color and tone variations

Excellent shading

Authentic-looking textures

In-depth appeal of the lettering that draws the eye
You are convinced yet that this product is one of Procreate's best gradient brush sets?
If not, why don't you try for yourself?
Get Yummy Shaders today and join the feast!
Pros & Benefits:
Can be used for shading and texturing in all areas

Great control over texturing

20 Shaders value for money
---
What is the expression?
Saving the best for last?
The final product on the list waited patiently for it's a moment of glory.
It somehow reminds me of the artwork of the 60's and the 70's,
You know, hippie art, round, simple shapes, psychedelic effects, and bursts of vibrant iridescent color.
This is precisely what makes this unique brush set such a bestseller.
It can be used on any background, i.e., black of white, and in each case it produces it's own magic!
Some calligraphers reviewed this product as the best lettering brush as it creates perfect thin upstrokes and juicy, thick downstrokes.
The set includes 12 high quality, Grain Dust, and Textured Brushes, each with its own unique properties.
"Save the best for last" is available on Etsy.com, and at the price of only $5, we're back in the '60s again!
Pros & Benefits:
Can be used on different backgrounds

A variety of high-quality grain dust and textured brushes

Excellent lettering brushes
---
Final Thoughts
Is your preference creating traditional art media or more modern, contemporary art, or you are entirely new to the world of creating digital art?
The Procreate app can offer you a choice of the best gradient brushes to enhance your creativity.
This article only lists the ten best Procreate gradient brush sets.
In my opinion, there are many more to be found on the Internet, and it all depends on your personal choice and preference.
What is essential, though, is that you unleash your creative potential.
If you enjoyed this article, you might enjoy reading the following articles too:
10 Best Procreate Fabric Brushes