15 Best Procreate Sketch Brushes
Looking for a set of Procreate brushes to up your sketching game?
We've searched the internet for the best collections.
Read our reviews to decide which is best for you.
All of them seeking to recreate the natural feel of a physical drawing.
Every designer is seeking distinct brushes to create stunning artwork.
With the many varieties of brush sets and bundles, you might find yourself confused about which one to use. 
This article will introduce below 15 of the best Procreate Sketch brushes for different types of artwork.
---

This pack is designed to create a digital Gouache/paint look.
It includes 27 "Gouache" brushes and 20 texture brushes.
After using these brushes, you'll find your drawings looking more dynamic.
It'll also give your artwork additional depth texture.
They're easy to install and to add to the procreate app.
Note that these brushes will work only in the Procreate app for iPad Pro or the new 9.7 with Apple pencil.
The brushes won't work in Photoshop or any other application.
Pros & Benefits: 
Makes anyone look like a lettering pro

Has many variations and beautiful details

Gives your art a realistic paint look
---
This pack is professionally designed for those who are looking for an enormous variety.
This is because it includes more than 400 different brushes.
You have the choice to use:
Pencils

Charcoal

Ink

Paint

Other types of brushes
This outstanding bundle includes:
Charcoal brushes

Cross-hatching brushes

Engraving brushes

Glitch brushes

Grain brushes

Grain volume 2 brushes

Grunge brushes

Some grunge texture brushes

Grunge Toolbox brushes

Halftone brushes

Inking brushes

Ink brushes

Some ink stamp brushes

Ink & paintbrushes

Ink splatter brushes

A number of ink splatter brushes Vol. II

Inktober brushes

Lens flares brushes

Lights brushes

Neon brushes

Paintbrushes

Pattern brushes

Pencil & charcoal brushes

Rake brushes

Sketching brushes

Smudge brushes

Space brushes

Stippling brushes,

Watercolor brushes
Also, a bonus inker brush is included, which you can use to trace the outlines of your drawings.
The sets are arranged in separate folders in a brush-set format.
The creator organized the bundle in a way that allows you to install each set separately. 
Also, it has a description for each brush.
You can quickly see when browsing the folders before installing.
In short, this bundle has everything needed to add a fresh look to any project.
Pros & Benefits: 
Gives the feel of randomness and blend nicely

Supports different designs.

Includes tutorial pages
---
Looking for a unique shading with soft textures for even the smallest details.
Then you'll find this set very useful.
The set includes 28 brushes divided into four groups with distinctive features and purposes.
This gives you many options to design and create freely.
The bundle contains:
Seven shader brushes

7 noise brushes

Seven hatch brushes

7 edge brushes

12-grain textures (EPS & PNG)

Brushes in additional CS6 format, and

A help file
In other words, you will find brushes for any use like:
Shading

Scratching

Highlighting

Many others
You can use all these for:
Digital paintings and artwork for websites

Brochures

Flyers

Printed material

Tattoos
The hatch brushes are great for adding a bit of grunge mood.
It can be used to sketch the shadow areas.
For designers who have an affection for creative mess but still want to keep things straight, they can use the "edge brushes." 
You can sponge and spray textures with a different intensity by using the noise brushes.
Use this pack to create:
Illustrations
Commercials
Posters
Logotypes
Advertisements
T-shirts
Even more
The Memento Shader Brushes are compatible with Adobe Illustrator Version CC 2014 and higher.
You can purchase this product with an extended license – unlimited personal and commercial uses.
Pros & Benefits: 
Shader brushes add authentic imagery by darkening the chosen areas.

Gives your project vintage looks

Creates realistic shades
---
This set is a complete hand drawing tool kit which includes a vast range of different pen marks.
Inside this authentic and versatile tool kit, you will find:
straight and rough outlines,
Dots

Dashes

Stippling

Hatching

Zigzags

Many More
You'll get 17 anti-stretch brushes in various styles.
The pack has:
9 Stipple brushes

Seven dot and dash pattern brushes

Four scribble and zigzag pattern brushes

One outline pattern brush for medium and long strokes

12 Short outline art brushes

5 Star and

cross pattern brushes

Eight star and 

cross scatter brushes

Three parallel line brushes

Four hatched line brushes 

Three tapered line brushes
The brushes don't over-stretch on long strokes.
This is because most of them use the pattern brush feature.
This tiles a section along the stroke.
Note that this product is compatible with Illustrator CS4+.
Pros & Benefits: 
Fills large areas quickly

Adds hand-drawn sense to your design

Saves time in making patterns, shapes, and doodles
---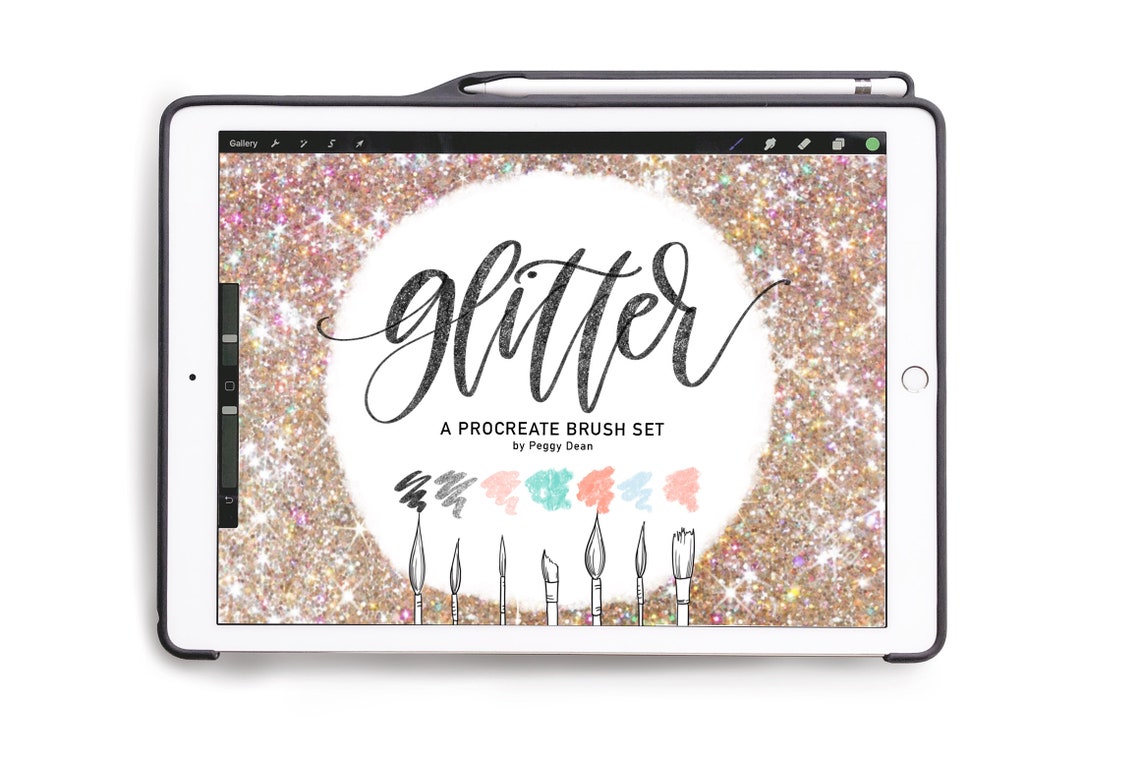 This product is for the designers who are fond of sparkles.
It allows you to create elegant sparkly calligraphy and lettering.
What are you going to find in the bundle?
Glitter Brush with an added sparkle effect

Moonlight Twinkle Brush to give a dark magical glitter effect to your work

Sweet Dreams, they are Soft dreamy sparkle effects

Texture Glitter Brush, which looks like real glitter texture

Chunky Glitter Brush, they are thicker brush and chunkier glitter effect

Cotton Candy Brush, it's a kind of soft billowy shimmer brush

Pixie Brush, they are loose shimmer brushes with dancing glitter effect
These custom Procreate brushes have pressure sensitivity for:
Calligraphic design

Hand lettering

Illustration
You'll find that these brushes are easily customizable.
They allow you to modify them according to your needs.
All these products in this pack can be used for:
Personal purposes

Commercial purposes

Yourself

On behalf of a client 

As part of your new design for sale
Pros & Benefits: 
Gives sparkly effects on your digital pieces

Can be used the brushes in different colors.

Easy to install and use
---
The creator of these authentically textured brushes used photos of real wood.
The illustrator brushes are more versatile than standard vector textures.
They allow you to bend and shape them to suit your designs and illustrations. 
Wood grains are usually one of the hardest styles to the pattern in the design.
However, you'll find this bright bundle helpful in different designs like:
Backgrounds

Texts

Banners

Outdoors themed designs

Other art creations
The set includes 13 Wood Art Brushes, 5 Wood Cross-section Scatter Brushes, Demo file.
The demo files will show the brushes in action and instructions to help you use the pack.
Note that this product is compatible only with illustrator CS1 to CC.
Pros & Benefits: 
Allows yourself to add texture to almost anything

Adjusts the color and width as desired

Adds depth and texture to your creation
---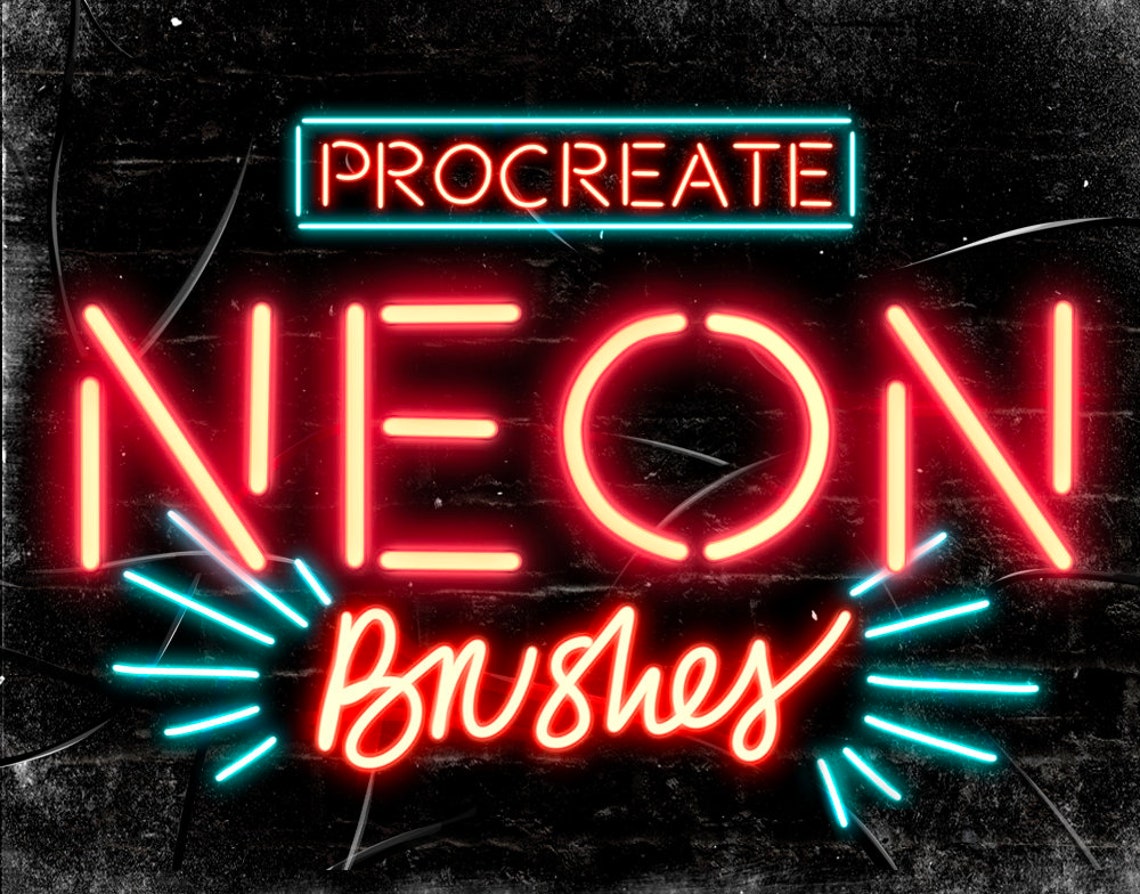 Do you like to use neon artwork in your designs?
You'll be able to light up your creative projects with neon arts by using this bundle.
This pack is beneficial with neon artwork as it includes a total of 9 brushes:
4 Neon tube brushes

2 "Grunge" neon tube brushes (Halftone and Old Neon)

1 Multi lights brush

1 Dot lights brush

One Marquee lights brush
Furthermore, you'll find tutorials included to help you to create your neon effect,.
They are easy to follow.
Neon is not just for lettering anymore.
It can be even used for abstract art.
Note that these brushes are only compatible with the iOS app, and Procreate for iPad.
They won't work in Photoshop or other programs.
Whether you are a beginner or professional, you'll be able to use this pack easily. 
Pros & Benefits: 
Saves time in making personalized neon effects

Originate a realistic neon effect to spice up your design

Lovely for a simple translucent effect
---
This bundle is made for comic artists, character designers, and illustrators.
It is crafted with love and passion.
This set is inspired by the inking styles of famous comic artists like:
André Franquin

Albert Uderzo

Bill Watterson

Charles M. Schulz

Walt Kelly

George Herriman

Will Eisner
There are more than 80 professional ink, sketch and drawing brushes inside this pack.
First, you'll find 2 Ink brush sets for comics and cartoons, which has more than 40 premium brushes, nibs, and inking pens.
The previously mentioned two sets can be used for professional inking.
Also, you'll find the "Dirty Dozen" Set, which has:
More than 19 ink brush pens

Sumi brushes

Splatter brushes besides

A new grunge paint brush

Gritty shading brushes
The "Dirty Dozen" enables you to develop a rough, hand-drawn, and grungy look and feel.
Furthermore, you'll get a "Manga and Anime" Brush Set, which contains:
More than 25 traditional Japanese ink and paintbrushes

Screen tones (seamless pattern brushes as well as transparent PNGs)

Shading brushes
Now you can create professional manga, traditional East Asian drawings, and anime-style comics.
Finally, you'll find the "Pencils and Sketch" brush set, which has 8+ custom pencils, drawing pens and sketch brushes. 
Pros & Benefits: 
A beneficial set for cartoonists, illustrators, and character designers.

You get free updates and new brushes.

The brushes resemble the first strokes of the artists they were named after
---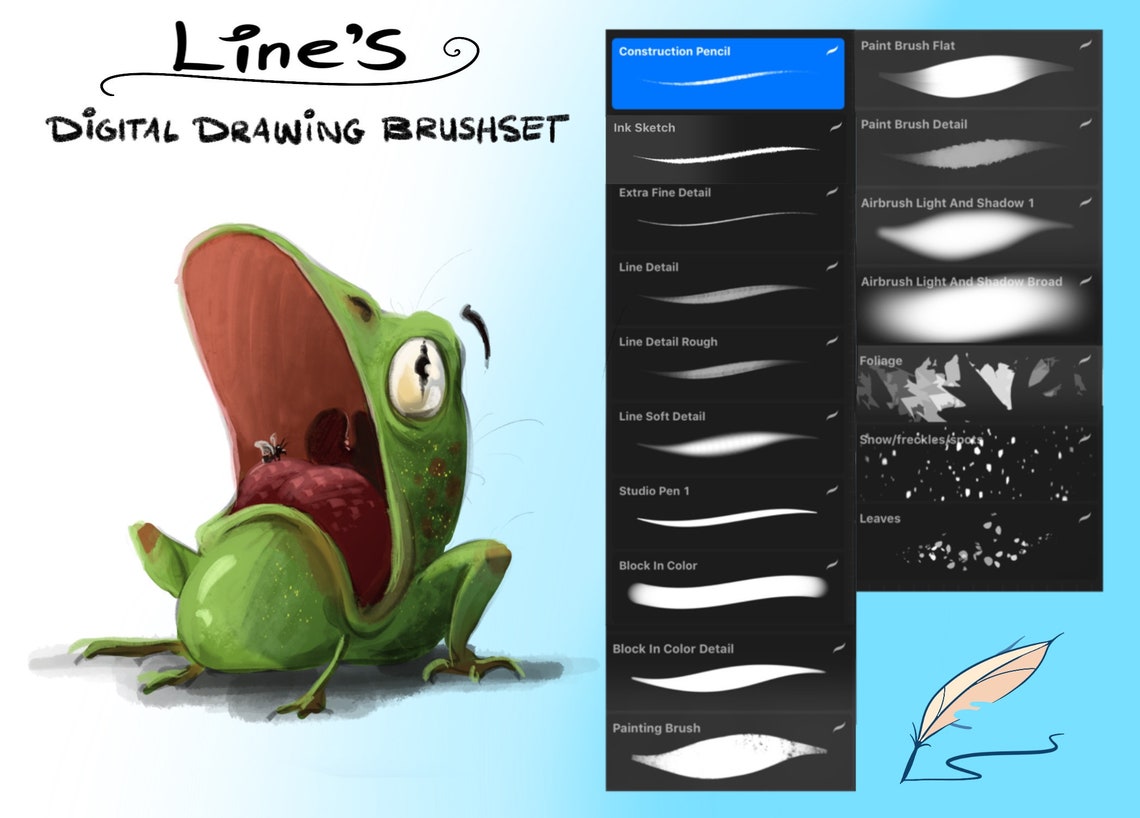 This pack is adequate for beginners who are starting on Procreate.
It has such a wide variety that you can definitely use while getting started,.
You won't have to buy brushes for a while.
What you're going to find in this bundle?
A construction pencil for basic sketching, which you will find so satisfying in action

An ink sketch pencil for ink drawings but without a super clean outline

Four different line brushes with individual qualities, which create amazing results when polishing up your initial sketch. (if you super-size it, it will be an excellent as a kind of watercolor brush too)

A studio pen adapted from the original Procreate version that gives a better-streamlined look 

Two blocks in color brushes that can be used to block in a base color

Three painting brushes for digital painting and detailing that are named 'Painting Brush'

Two airbrushes to fit any need for air-brushing in detail and broad spectrums (which you will find very good for painting in soft sun rays or in blending colors with the smudge tool)

Finally, you'll find three-element brushes that you can use for diverse types of art like snow, freckles, leaves, foliage, dust, particles, etc.
Working will become more enjoyable and inspiring with these brushes.
Pros & Benefits: 
Studio pen is great for manga, comics, and lettering

Comes with information about how to use each brush

LThe line brushes amazingly serve as a kind of watercolor brush too
---
Here you'll find in this killer collection a set of 16 handmade sketching brushes for Procreate.
They were created and tested using an Apple Pencil.
There are two categories of brushes included the:
First one, has eight ink pen brushes

Second, comes with eight marker brushes
The creator also added 1 JPG swatches sheet for a quick preview of all the brushes to guide you. 
The ink pen brushes are used for sketching and creating the outlines of your drawings.
The marker brushes are used for shading. 
This pack is great for quick sketches, concept art, and lettering as well.
Creator's Tip
For a transparency effect with the brush strokes, especially the Marker brushes, change the blending mode to Multiply or Linear Burn.
Don't hesitate to increase the Streamline parameter in the stroke options panel for smoother lines when creating custom lettering.
These brushes are only compatible with iPad app Procreate.
They won't work in Photoshop or other programs.
The creator recommends the iPad Pro + Apple Pencil combo.
They're currently the most precise and accurate tools for drawing in Procreate.
Pros & Benefits: 
Work great for quick sketches and concept art.

It can be used for lettering. 

Easy to use
---
Watercolor artists will be very grateful for this outstanding set.
It contains more than 100 brushes.
You can use it to recreate the randomness and natural effects that come with real watercolor.
What are you going to get?
46 Watercolor paintbrushes for drawing, forming buildings, and shading.
29 Washes and runs for stamping large areas of textures and bleeds.
20 Splatter brushes for adding a loose feel familiar with watercolor painting.
8 Random drip brushes for adding final details.
5 Water brushes for blending and fading strokes and washes.
A brush guide PDF to help you quickly learn the brushes and their uses.
Procreate color swatch file and guide with real paint colors as hex values.
A high-resolution watercolor paper texture for painting on a textured surface.
Finally, you'll find five walkthrough tutorial PDFs on how to paint a macaw and a fox, as well as general usage tips and information. 
You can create texture by layering color, drips, and splatter.
Note that this set is designed for the Procreate App on the iPad and won't work with any other applications.
Pros & Benefits: 
Originate realistic and natural watercolor art.

Amazing color blend.

The tutorials are quite helpful and well written
---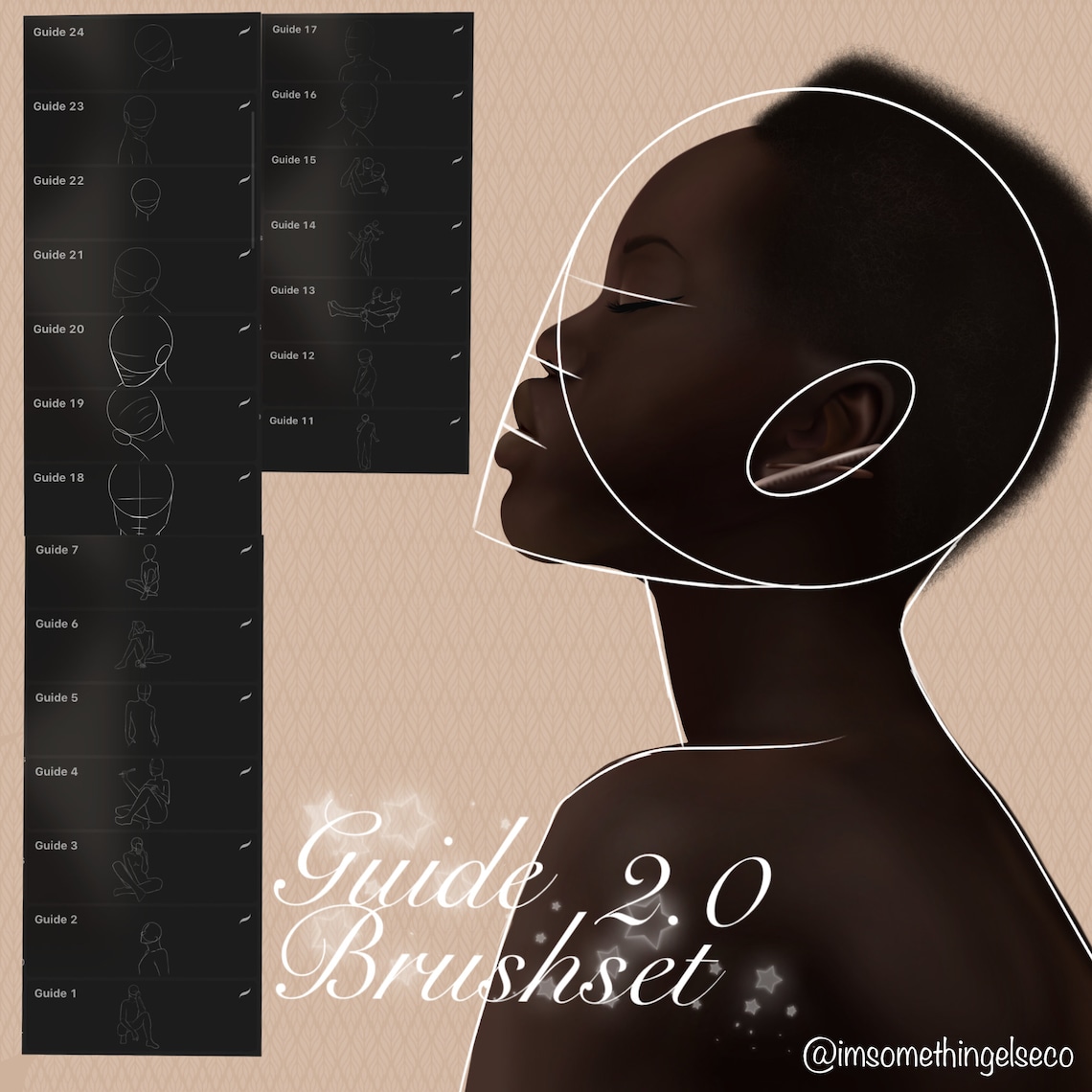 This pack is designed for every artist seeking to create perfectly proportioned portraits.
It will offer you a great variety to use.
You'll get 28 Guide stamps in total, plus a sketching brush.
The stamps include 12 Full Body Poses, 3 Couple poses, and 13 Head poses, and you'll find that each one of them is carefully drawn and of the highest quality.
It can be used for portraits, cartoons, and stylized drawings.
Beginners will find these brushes very useful to draw full-body portraits and to add lashes and brows easily.
This pack can be used for personal or commercial purposes.
Pros & Benefits: 
Adequate for both men and women's portraits

Give a great foundation that you can quickly build off into your style.

So easy to import into Procreate
---
Comic artists will find this set very helpful for their comic book designs or graphic novel themed projects.
What will you find inside the Retro Comic Book Tool Kit?
84 Vector cartoonist brushes with reduced anchor point count and smoothed curves, which means less distortion while retaining the life-like discrepancy of real Ink

Four high-resolution bitmap comic book texture patterns sourced from real aged Ink on paper.

Two Grunge Edge overlays that will give the finishing touch to any retro design.

A bonus set of comic book layer styles that you can add to your designs for an extra layer of graphic realism

A quick reference guide to help you find the brush you need
Pros & Benefits: 
Includes a vast range of lengths

Saves you a lot of time

Doesn't leave over-stretched and distorted lines
---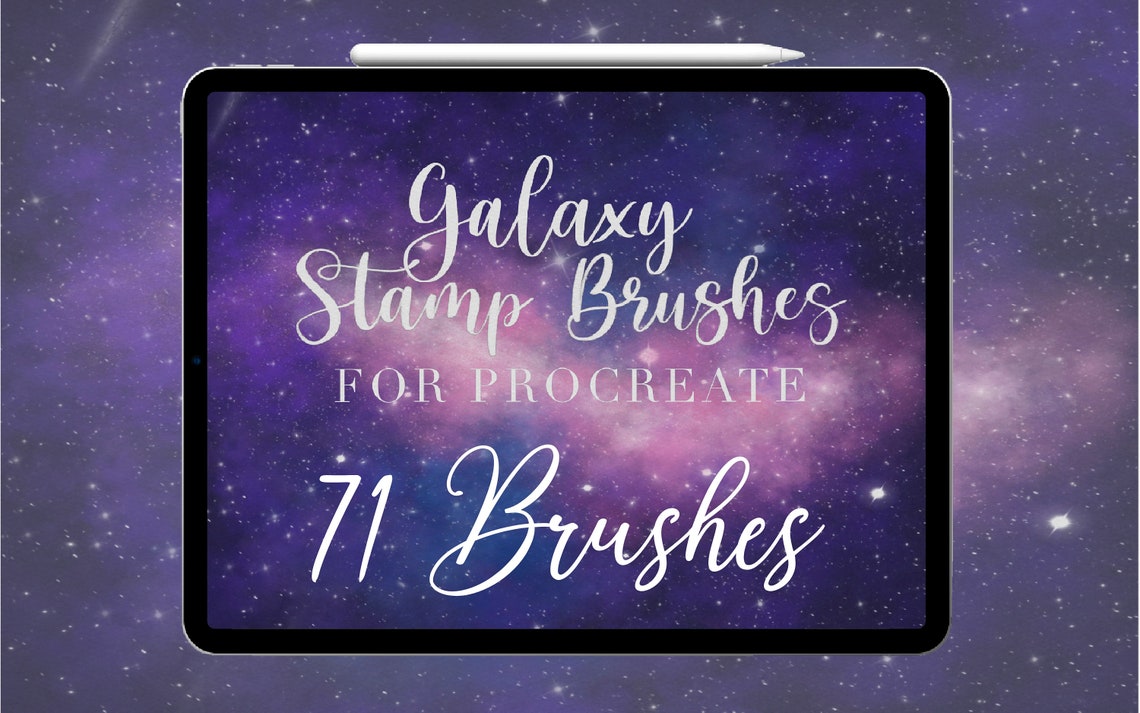 You can now digitally create beautiful galaxy night sky art or northern lights sky scapes with this elegant set of brushes.
This set includes:
1 Nebula Dust Brush

7 Star Brushes

1 Star Lettering Brush

1 Lunar Eclipse Stamp

A stamp for each planet in the solar system

7 Galaxy Stamps

6 Aurora Borealis Stamps

2 Eclipse Stamps

5 Moon Stamps

3 Comet Stamps

11 Nebula Stamps

1 Sun Ray Stamp

13 Star Stamps

5 Cloud Brushes 

4 Color Palettes in swatch format
The brushes can be used for personal and commercial artwork.
Creator's Tip
The stamps don't require an Apple Pencil.
But some of the color-changing or pressure-sensitive brushes will work best using the Apple Pencil.
Pros & Benefits: 
Great variety of brushes and stamps.

Quick and easy to use

Inclusion of textures and color palette
---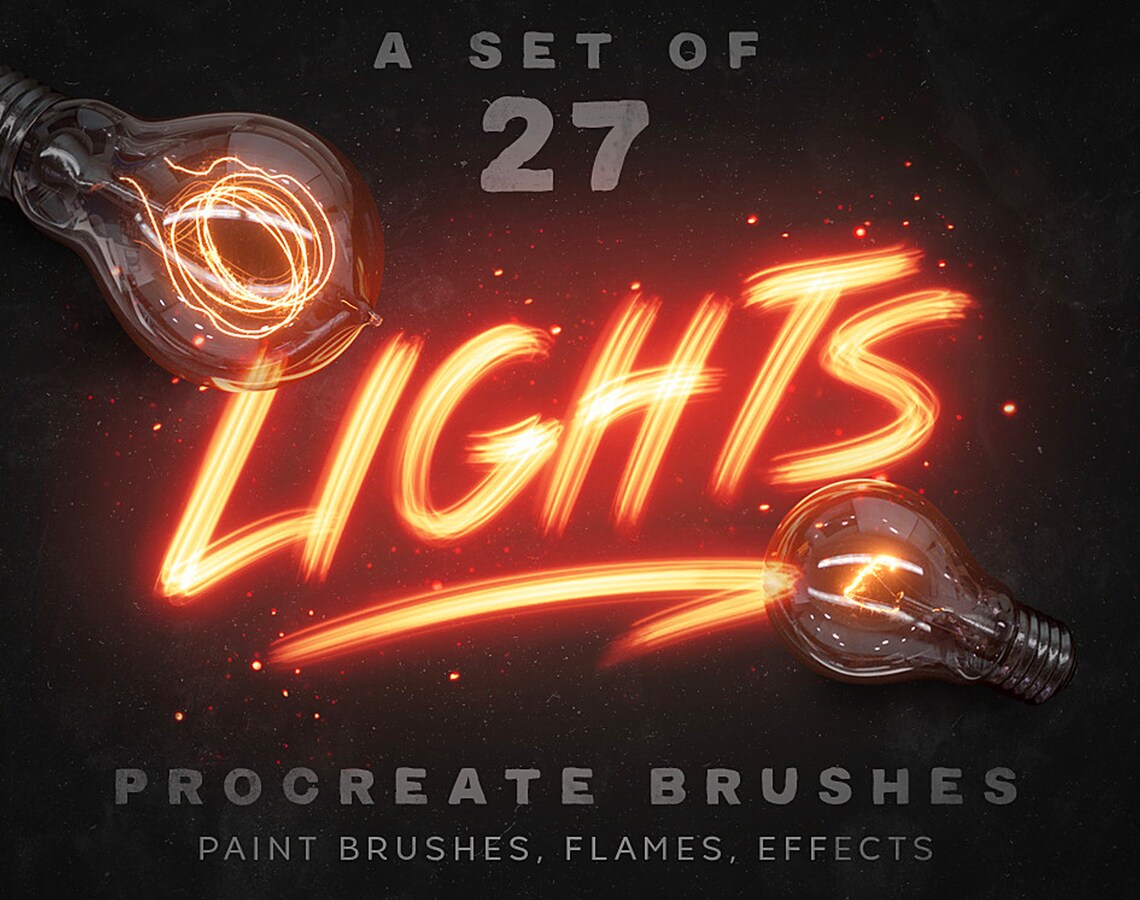 The Procreate Lights pack has a variety of brushes that will allow you to create:
L

ights

Flames

Neon signs

Bright lettering

Even more
The bundle is composed of 3 categories:
Light pens (for lettering or painting)

Flames

Effects
You will also get 1 JPG swatches sheet for a quick preview of all the brushes and 1 PDF quick tips sheet.
Moreover, you'll get four color palettes/swatches namely:
Neon colors

Cool & w

arm whites

Retrowave

Fire
All of those, you can import to Procreate and apply to your sketches.
There are no duplicates.
You'll find that all of the brushes are new and unique.
Creator's Tip:
Due to their nature, these brushes work best on darker backgrounds.
Note that this pack is compatible with the iOS app Procreate for iPad,.
They won't work in Photoshop or other programs.
Pros & Benefits: 
Light effect is "built-in" (that means you simply have to select a bright color and start sketching)

Originate a fantastic glowing effect

Easy to use 

Help reduce steps, layers, and time
---
Final Thoughts 
There are a few things that you might want to check before purchasing or downloading new bundles or brush packs.
First, know exactly what brushes you are searching for and decide what set serves you best.
Try to check the file size of the brushes.
They might be substantial, or you might not have enough space on your device. 
Make sure it is compatible with your device or your program's version.
If the bundle includes a guide, you might find it useful to know how to install and use the brushes.
Finally, enjoy your sketching and have fun creating.
If you loved this article on Procreate sketch brushes, we're pretty sure you'll love our other articles below, too.
Sympli vs Zeplin: Which Is The Best Design Hand-Off Tool?