10 Best Star Brush Set Options For Procreate
Having your own star brush set would surely make your artwork twinkle!
So, don't wait for Elon Musk to take you to Mars .
Create your own galaxy to explore right on your tablet.
So let's get looking at these fun star brushes for Procreate.
---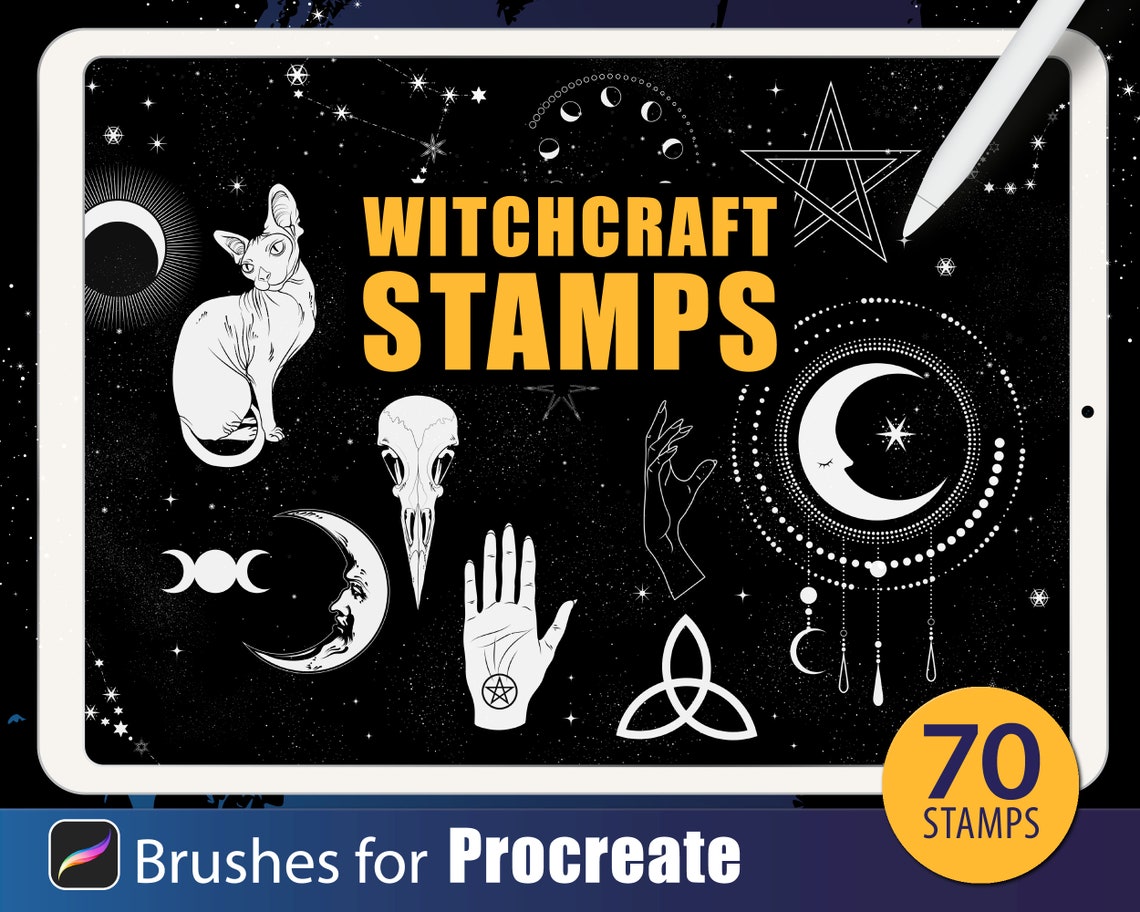 Start burning your sage and get out the eyeliner, because the galaxy is going to get just a little witchier with this mystical brush pack for Procreate.
Though not strictly for stars, this pack features a variety of fantastic star patterns.
These include a variety of star dusk brushes, stylized moons, as well as star forms like pentagrams and six-sided stars in a variety of designs and styles.
Of course, what would a pack that draws from "the beyond" be if it didn't include a fantastic zodiac set and celestial add-ons?
There are a lot of twinkling stars, comments and interesting patterns give a more spiritual sense to your drawing.
We all know that looking at the stars doesn't always have to be one of those cold, hard scientific experiences.
Sometimes, looking at the sky means finding some part of who you are.
Don't be afraid to find that same part of yourself in this add-on that you can use with Procreate.
If you want something that is totally different than your typical night sky, you can use some of these mystical pieces to work your Wicca into your next piece of art.
This pack also features a lot of cool moon phase stamps.
So if you want to add some pre-made shade to accent the cat under your bright moon, this may be an excellent place for you to start. 
Not that I would expect to see a pentagram in space, but the new Doom Eternal had quite a few of those.
Don't be afraid to add some celestial concepts to space exploration. 
After all, there could be hairless cats and all kinds of mystical symbols floating around the cosmos. 
Start drawing them now.
So when they are discovered, you can have proof of your powers of clairvoyance.
Pros & Benefits:
Alternative star packs for those inclined to spooky art

Mystical patterns to enchant your sky line

Wicca in space!
---

The galaxy can feel just a little bit smaller when it is in the palm of your hand.
It features 15 Nebulae (which is just a fancy way of saying more than one nebula) Brushes.
All are great for making the fundamental backdrop of your cosmic artwork.
Star field brushes are also a great addition.
They give you the ability to fill in large or small areas with star textures of your choice.
An interesting tool to create a star-studded dream is the Diffraction Brush.
This sounds like something out of Star Wars than a tool for Procreate.
The Diffraction Brush is excellent for adding textures for more massive stars.
It lets you create fantastic star effects as your main focus.
Don't be afraid to smudge with this pack!
Nebulaic Smudge tools are included in this set.
These tools give you a soft and coarse option when creating gas clouds.
The coolest thing about this pack is the color swatches taken directly from the Hubble Telescope. 
It features the:
M51 Galaxy

Crab Nebula

Pleiades

Orion Nebula

Helix 

Horsehead Nebula color swatches
You can create realistic colors to fit your desired cosmic corner.
You can also put Michal Bay to shame with the lens flare tool.
It's way more appropriate in space than on the cinematic screen.
Now you can add a halo to your favorite star!
You can also soft brush some detail work into your scenic skyline.
Either way, this pack is right for you.
This is one of the packs that give you the realistic detail you need.
However, if you want a more cartoonish take, feel free to look in the last few items of this list.
Pros & Benefits:
Realistic color swatches

10 Nebula brushes to build your star scape

Huge assortment of soft and hard brushes
---

Do you want to create a universe?
What are tablets made for if not to be cute little tools that allow us to play god and create something in our own image?
Create stars, planets, gas trails, comets, and dust clouds in your celestial space with the fun tools included in this brush pack.
How many brushes did you ask?
Well, let's be honest, 75 brushes are a lot of unique tools to create your own universe.
The author also has some great tutorials and examples on how to make this product work for you.
Moon patterns, spiral nebulae, and black holes are at your fingertips with the cool add-on for Procreate.
If you are into the other-world, then you simply have to check out this collection of star patterns.
They will make your world glow!
They will also help create your artistic world in a way you never thought possible.
This is also an excellent tool for hand lettering.
Use this set to add a touch of the extra-terrestrial to greeting cards and posters. 
The addition of 2 custom backgrounds allows a fantastic backdrop.
You can paste onto it your latest space-themed piece and watch it come alive!
Pros & Benefits:
Massive brush pack

Built-In guide for fast reference

Free background textures
---
I need to be honest, and this set is for the earthlings!
Great for creating perspective and a feeling of staring up at the night sky.
These selections are more geared towards adding a celestial night sky than they are creating a real space-themed piece of work.
If you feel like you need to be in the forest looking at the moon, the stars, and simulating universal closeness, this is for you.
Honestly, this package reminds me of the plot of the Nintendo 64 game Majora's Mask.
Remember the part where the moon is front and center in the world you live in?
Add gauze beyond the trees and sultry reflections in lakes when you use the star-studded patterns.
You easily make an artistic representation of your personal night sky.
Paint your own star-filled canvas with these assortment of brushes and stamp tools.
They feature:
Light speckles

Centralistic clouds

Nebulous elements

Star shapes
With these tools, you can make fluffy delights.
But I bet you didn't expect these fluffy delights to include calligraphy. 
This star-studded writing style gives you a space-y effect.
But it is well-defined tool to make the writing on fantastic.
Picture a liquid galaxy with the smoothness of your digital pen.
That is precisely what you will get with this perfectly patterned nebulaic tool for Procreate. 
I want to talk about moons for a moment.
Moons of all shapes and sizes exist.
We need to love all of them. 
With round edges, jagged edges, smooth surfaces, and dark spots, moons are what keep the planets going around.
It provides an awe-inspiring sense of danger and appreciation for the world you have.
Most especially, if you have only three days to make the best of everything you have ever achieved.
Pros & Benefits:
Realistic color swatches

10 Nebula brushes to build your star scape

Huge assortment of soft and hard brushes
---
If you are a believer, there is nothing more important than your star set.
Constellations may be a significant influence on the shape of your day and the nuance of how you feel.
Thankfully, you can express every horoscope in your celestial catalog with this beautiful stamp set for Procreate.
With over a number of constellations, it's hard to find a star map that doesn't align with your painting needs.
Included in this pack are 12 stamps in zip file and .brushfile formats.
No matter how you align or orient, there is something in this excellent Procreate set for you.
I never felt a particularly strong tie with my sign.
Why not make your own sign and find your own destiny in the artwork that you create?
There is no better way to take your fate in your hands than with this Procreate bundle.
Pros & Benefits:
12 Constellations

Realistic and recognizable zodiac signs

Transparent background
---
Sometimes simplicity is in order when creating sky scapes.
This brush bundle gives you a great selection of minimalistic brush sets.
With these, you can create light star patterns that are sure to find their way into your next art piece.
While other brush sets give you a range of moons, stars, and galactic swirls, you might not need all that.
Why have hundreds of brushes when you only need one a few specialized tools to add to a simple and elegant night sky to your art?
I admire the simplicity of this add-on for Procreate so much.
It honestly gives me an excellent idea of what I would want in an uncomplicated brush set.
I mean, this set has four essential star brushes for the person who want simplicity.
No need to fret about the complexities of creating a realistic representation of the stars.
Great for simple greeting cards or posters that feature something other than the skyline.
These simple, yet elegant star patterns are a sure one-shot solution to your simple star needs.
Each star brush gives different celestial patterns, adding light gas clouds and soft or brighter star patterns,.
Each brush provides you with a handful of options to work with.
Also featured is a high-resolution poster.
You can use this as a background for any sky design you want to create.
If the idea of creating your Zodiac in the sky, painting elaborate nebulae, or comets shooting through the air, this no-nonsense star pack is an excellent place of you to start with. 
Pros & Benefits:
Simple and no-nonsense

Offers a star with a smiley

6 Great star patterns
---
This is a MASSIVE star pack and can satisfy all the needs of even the most demanding designer.
With a vast assortment of star stamps, this pack will give you the perfect star that is sure to put a twinkle to you and to your viewer's eyes.
All these stars are expertly designed and made for ease of use and have great quick reference sheets so you can find exactly what you want quickly! 
If you are indecisive when it comes to your stars, this pack has something for you to use, no matter what.
There is something wonderful about having a lot of choices; it can really let your creativity shine. 
If having 140 stars seems like it is too much, trust me, it isn't.
Don't be afraid of having choices!
It only gives you more options to make your next Procreate piece that much more special.
Perfect for cards and scenic holiday settings, there is a guarantee that you will find something that will improve your next piece of work.
These stars focus less on realism and more on a cartoon-like style that gives you all the stars you can dream of.
Don't hesitate to get this pack and find the stars that are right for you. 
This fantastic set will give you everything you are looking for in a star pattern pack.
Pros & Benefits:
Extensive collection of star designs

Great for casual holiday decorations

Patterns for any occasion
---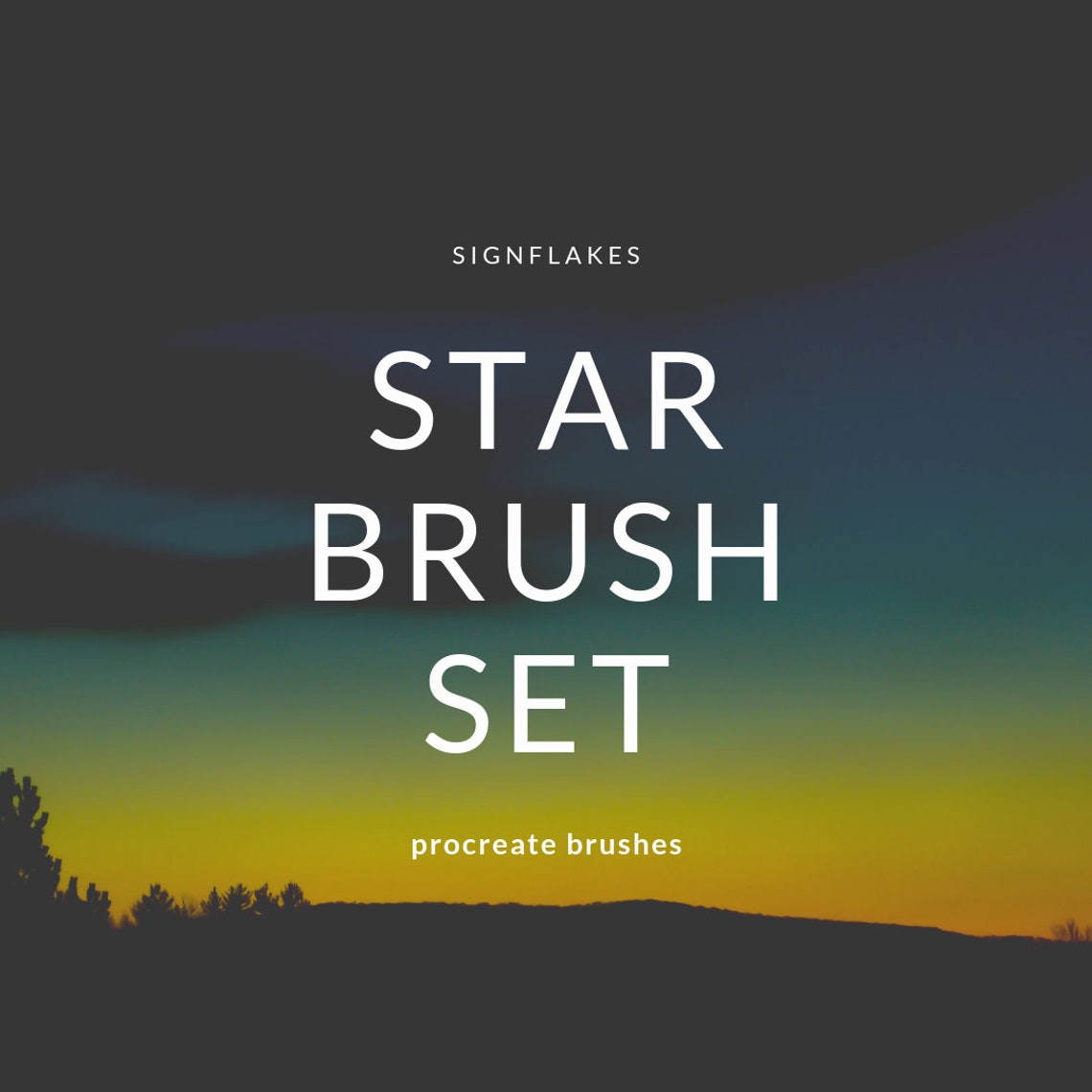 Again, I want to move away from the "serious" star brushes and find a more silly way to create fun art.
These brush sets are made for the casual stargazer.
Aimed for those who like to add fun effects to their work. 
Featuring star effects that range from:
Fun and hand-drawn

Ink stamped

Chalk star stamped
These star effects are significant for fan signs or lettering.
These brushes for Procreate give neat shimmering effects that can set your next design apart.
The  textures are also great for calligraphy and watercolors, which make this pack simple, yet versatile.  
This seller offers spectacular support for their product.
It also has a great set of reviews from experienced users on their page.
This package is excellent for adding background designs and provides tutorials for this easy to use package.
These designs feature cute and bubbly letters. 
I know I keep mentioning how cute these brushes are, but did I mention that they are sweet and fast?
It sounds like a dream come true.
With your trusty stylus and your iPad, this is one Procreate tool that you can't hesitate to miss out on if designing fan signs is your thing.
I wish they would have included a background in this package for the designer to use.
However, it is good to leave some things open to the user.
Overall, a stellar star pack and something that you can enjoy for calligraphy, fan signs, or general design.
Pros & Benefits:
Great for calligraphy

Superb for fan signs 

Backgrounds and more
---
It is so rare that you get to be grainy in space, but with this fun add-on for Procreate, you get to do just that.
It features a unique fuzzy effect on the planets Mercury, Venus, Mars, and Jupiter.
You can add so much to your star field with this space toy.
I love the grainy rendition of the planets.
This add-on also promises all future updates for free.
This is something I look for when buying a new Procreate set.
This includes disgustingly cute space eggs, croissants, and even a space watermelon.
If you want to make your drawing unique, get in touch with your inner space watermelon.
No matter what kind of convention you want to attend, you can always find a spot for the space watermelon in your artistic expression.
The good news is that the same unique grain effect found in this brush pack is found in its appreciation for food.
Next to grainy space Mars, grainy space eggs can just relax and have a delightful smile while it floats ….. Presumably in space.
Do you know what's even better?
You can sample this gain effect and apply its gradient style to your work, which adds a lot of shading to your drawing.
Overall, it is an excellent tool for adding texture and detail to other drawings, but also giving some depth of field to your stars and sky scapes.
Pros & Benefits:
Cool plant designs

Space eggs

Excellent gradient grain effect
---
I saved the best for last.
 This retro design utility is a simple DIY toolset to create your Fallout theme in Procreate.
It features 10 Space ranger brushes, pencils, form builders rayons, and print textures.
You will get to recreate your favorite illustrations from the 1950s and 1960s
You can experience the fantastic dry brushwork, masking techniques, and realistic brushwork.
Moreover, when you combine this with the best of the digital workstation, you get the best of the old world and new world.
This is another set that aims to maintain the authenticity of its artistic intention.
It also provides the full-featured tools that we expect in the modern-day.
Built by a dynamic duo of designer and artist, this complete tool kit was developed in tandem with two amazing creative minds.
This explains why there are so much nuance and subtlety in this work.
You can see how much the creators of this add-on have put into this work.
These natural brush media are unusual and are created from the giant collection of illustrations chosen by the artists.
All these lend a fantastic pallet to this Procreate add-on.
Pros & Benefits:
Amazing artistic design

Multiple tools to encourage artistic growth

Only amazing design and effects
---
What Can You Do with Your Star Brush Set
Procreate is one of the best tools for anyone who is design-oriented.
But for those who want a more "out of this world" experience, these celestial brushes may turn out to be your guiding star.
Create your vision of the galaxy with no grueling astronaut training.
No need to be blasted into space.
These space packs give you a fantastic variety of backgrounds, brushes, and textures to work with.
It allows you to create your own space scenery with excellent definition.
From simple shapes to complex constellations, these star patterns are an excellent tool for anyone.
Most especially suited for those trying to come up with fantastic sky scape in their artwork.
The imagination is as endless as the options in these tools.
Final Thoughts
These unique designs are definitely stellar.
If you want to make space as the forefront for your project, you need to get some of these tools and make something special from them.
When the artistic work is in your hands, you are the only hope.
If you enjoyed reading this article, you will also enjoy reading the articles below.
10 Best Canva Invoice Templates, Free and Paid
Free & Premium Procreate Textures